Level 3, supported by Intelligent Demand, announced it received a 2017 Silver Key Award from the Colorado Chapter of the Business Marketing Association (BMA) for their Cross-Solution Dynamic Nurture Email Marketing Campaign. The recognition took place at the annual Gold Key Awards gala Friday, May 5, at the historic McNichols Building with hundreds of business-to-business (B2B) marketers in attendance.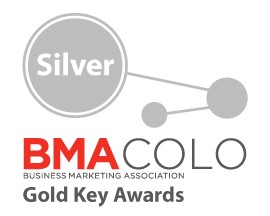 Level 3's cross-solution, dynamic nurture program, otherwise known as Portfolio nurture program, targets and engages influencers and decision-makers for Cloud, Network Security, Wide Area Network and Voice solutions at targeted Fortune 1000 accounts. The innovative program gives prospects and customers the ability to discover and engage with a range of content that speaks to multiple, related areas of need and interest. As prospects and customers engage, the program reacts to their behaviors by routing them to the next, most relevant piece of content. Everything is tracked and scored in Level 3's marketing automation system. Once qualified, prospects and customers are routed to the sales development team for evaluation of sales readiness and entry into the sales pipeline.
As of March, 2017, 2,724 contacts were enrolled in more than one solution area at any point in time, thanks to the Portfolio program. The Portfolio program has lead to 100 closed won deals, as well as hundreds of thousands of dollars in recurring monthly revenue and millions of dollars in pipeline impact. Results like this helped Level 3 win the Silver Key in the category of Email Marketing Program.
"Our buyers face very complex challenges, which makes marketing to them equally complex. Our challenge is to simplify the conversation and engage them in a way that educates and induces action. This program helped us move from launching a series of reactive, episodic, and product-focused campaigns to an audience-centric, always-on integrated program that is driving both prospect acquisition as well as customer cross-sell. Our partnership with Intelligent Demand allows us to strategize, innovate and execute at a faster and higher level," said Gavin McKelvey, VP of North America Marketing for Level 3.
The Gold Key Awards is recognized as Colorado's most prestigious competition dedicated solely to B2B marketing communications. This year's program received more than 100 submissions from some of the state's top B2B businesses and agencies. A panel of 12 independent judges representing agency and corporate marketing professionals from across the country scored entries in more than 40 categories on objectives, creativity, production, and results.
"The Board of Directors of BMA Colorado extends its congratulations to this year's winners. Each winner is to be commended for being the very best in B2B marketing," said Colorado BMA Executive Director Derrol Moorhead. "Because of our emphasis on quality and results, the BMA Gold Key Awards are highly coveted by Colorado marketers."
To view a complete list of winners and credits, visit www.bmacolorado.org/goldkey/. For more information on the awards and winners, email info@bmacolorado.org.
---
About Intelligent Demand
There aren't too many agencies who sign up for measurable revenue impact. Intelligent Demand emphatically does. But we don't just help our clients make a one-time sales impact; we commit to transforming the way they grow revenue so that it is repeatable, scalable, innovative and measurable.
We know that random acts of marketing, shallow creative and poorly implemented technology aren't how you build a world-class revenue program. Instead, we collaborate with our clients in an efficient, agile way that complements their strengths and domain expertise. Each day, we prove that a holistic approach – one that integrates strategy, creative, media, technology, data and analytics – is the best way to deliver ongoing ROI in today's complex buying environment.
We call our approach Real Revenue Transformation™ because when the right people work together in the right way toward the right goals, genuine transformational growth happens, careers flourish, companies grow, and customers win.
About BMA Colorado
Dedicated exclusively to the discipline of business-to-business marketing, the Colorado chapter of the Business Marketing Association (BMA) is the premier organization for marketing professionals in the region. Its membership is comprised of more than 500 business-to-business marketing practitioners employed by the region's leading corporations, agencies, suppliers, and small businesses. As one of the largest marketing organizations in the region and the largest BMA chapter in the country, BMA Colorado enriches the professional lives of its members by offering unparalleled opportunities for education, networking, and recognition, as well as exclusive access to industry resources and services. To learn more about BMA Colorado, visit www.bmacolorado.org.