Sales technology has exploded in the last five years. One of the major areas of growth has come in the engagement category, specifically around sales tools that aid in both tele-prospecting and email outreach. Some examples are Insidesales.com, Salesloft, Outreach, and Yesware, who have all enabled Sales Development Representatives (SDRs) to reach prospects with an increased speed and a much wider reach. In other words, with the same amount of hours in a day they can now market to a much wider audience. Sound familiar? Don't we have another team that does this? I think they are called Marketing.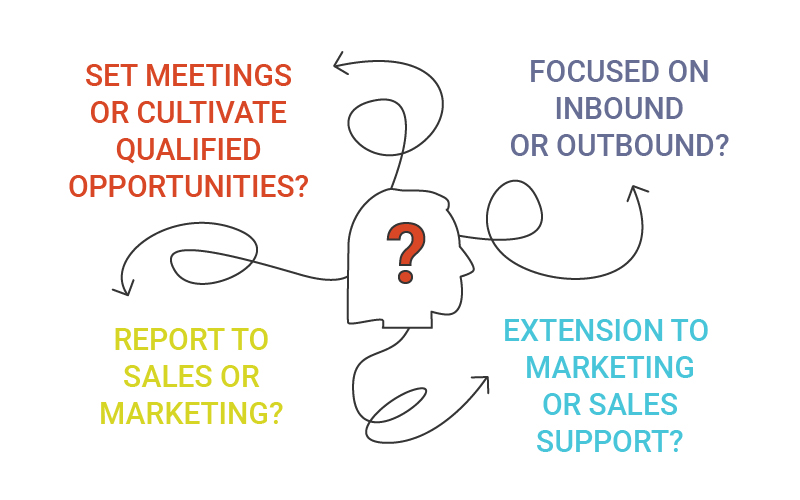 Sales & Marketing alignment is not a new challenge. Historically, this issue has centered around the age old problems of "I need more leads", "our pipeline isn't big enough", "these leads are no good"…the quotes could go on and on. While the struggle is still real for many B2B organizations, the growth of SDR functions have complicated the matter.
For starters, do your SDRs report to sales or marketing? Are they focused on inbound or outbound? Are they expected to set meetings or cultivate qualified opportunities? Are they an extension to marketing or are they sales support?
Over the next few weeks, we will explore how you can shift from competing teams to a harmonious high functioning unit. The focus for today's post, which I believe to be the foundational element for success, is data orchestration. I strongly believe that having a very detailed and documented process around data orchestration will be your key to internal cooperation and a better customer experience. Let's dig in!
What is Data Orchestration?
Orchestration is defined as the planning or coordination of the elements of a situation to produce a desired effect. In the world of prospecting, data equals people. And no two people are the same. Some are learning about you for the first time, some don't even know you exist, and others have been loyal customers for years. To break this down scientifically, data orchestration as it relates to demand generation is your process for who is going to do what with who, when, and why.
On the surface it sounds straight forward, but when you have new inbound leads arriving everyday, outbound leads to target, existing customers to grow, and ABM activities to execute, the quantity of people you need to reach starts to increase dramatically.
Layer that on top of three different organizations (marketing, SDRs, and Field sales) all needing to interact with these people. And the cherry on top — yesterday's sales stack has swelled from a Marketing Automation Platform and a CRM to also include a handful of sales acceleration tools designed for sales teams to reach more people and generate more meaningful conversations. See how this can escalate quickly?
What actions can my organization do today?
Get in a room and whiteboard it! You should include marketing ops, sales ops, an SDR Manager, and an Inside/Field Sales Manager. You want to capture are all the applications currently in use. Show how people (leads, customers, warm, cold, etc) move from one system to another. Do people leave one application to another or are they replicated? Also make note of how new people come into your applications. It's not always via a marketing automation platform.
Document all the different types of people that will come in and out of your systems.
Next, focus on the two most important aspects of keeping all teams coordinated and working together, which are ownership and status. Who are all the potential owners of a person in your systems? If that person owns it, what does that mean and what is expected? In addition to ownership, you need to discuss the potential status of people. Not only what they are, but what do they mean to both the owner and the other potential owners. Make sure that these fields are synonymous across all systems.
Decide on a consistent process to monitor and govern your data orchestration process. Build dashboards/reports and decide who will keep everyone honest.
Last but certainly not least, schedule internal enablement for all members of your sales and marketing teams. This will not only be enlightening and educational for existing team members, but also a valuable on-boarding tool for future new hires.
As you can see, data orchestration goes far beyond traditional lead routing. Don't get me wrong, getting the right person to the right owner is very important, but knowing who and what's going to happen is just as important. With multiple internal owners interacting with the same set of data, it's extremely helpful to clearly define and understand everyone's roles, responsibilities and expectations. Orchestrating this process intelligently across multiple teams will lay the foundation for a harmonious high functioning unit.
Looking to efficiently orchestrate your data?  Get in touch with Intelligent Demand and let us help your SDRs and marketing team live in harmony.