The client
IntelePeer is a CPaaS (Communication Platform as a Service) solution provider, focused on supporting enterprise businesses to enrich their customer experience, drive revenue, and decrease operational costs using automation and AI.
The challenge.
IntelePeer had a large portfolio of legacy clients who were still using their voice and SIP (Session Initiation Protocol) solutions, but had not yet expanded their services to the Atmosphere CPaaS solution. Many of these clients were unaware of IntelePeer's evolution into a CPaaS provider and required education around the new solution in order to be converted into CPaaS users.
On top of needing to further educate the target audience on this new solution, the pandemic forced the majority of clients to move their call centers to a remote or work-from-home environment. This resulted in rising security and operational concerns for these on-premise contact center platform users. Because of this new obstacle, these contact centers were looking to move off of their current on-premise solution and onto a cloud solution. What they didn't know was that IntelePeer could provide the benefits of the cloud, without forcing these businesses to rip and replace their current on-premise platform.
Intelligent Demand developed a campaign that communicated to IT managers that IntelePeer can provide these organizations the best of both worlds with their CPaaS solution.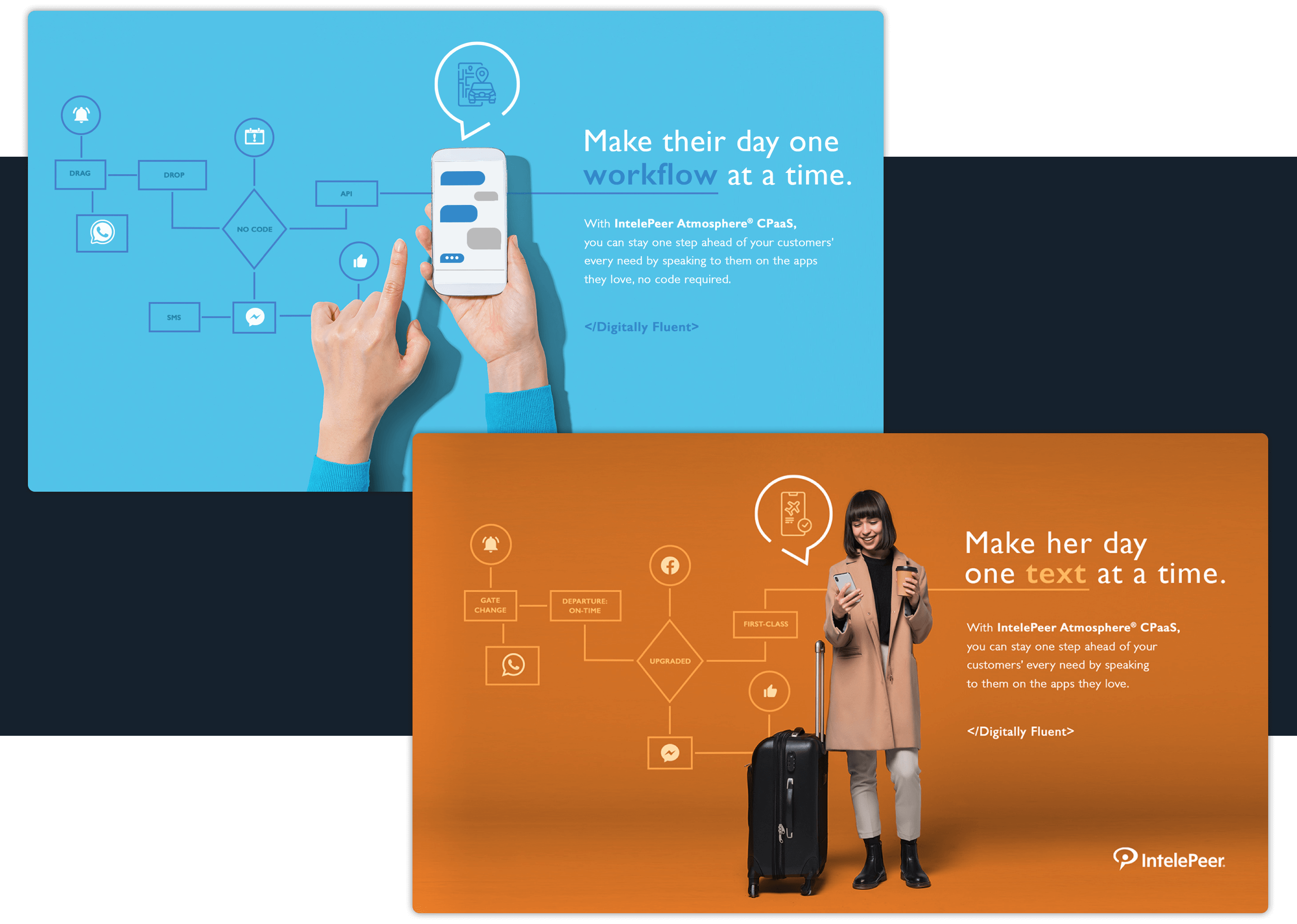 The strategy.
The true innovation in this campaign came from the way we spoke to the persona's end-customer's in their digital language. We referred to this campaign as "Digitally Fluent." In any language, we all understand how to talk "digital," no matter our native tongue. Using emojis, low-to-no-code language, and digital assets, we formed a new digital language. From an IT perspective as well as a Contact Center manager's point-of-view, tapping into each target audience's unique pain points and business challenges—and connecting with them emotionally especially in the wake of COVID-19 and the weight of having to accelerate their digital transformation in a matter of weeks.
We created content that took each persona through their customer journey from awareness and education all the way to consideration and purchase. We then drove them to unique landing pages that housed valuable thought-leadership content, including a webinar, eBooks, and podcasts that spoke to their unique needs. We illustrated images of our Call Center and IT audiences having a delightful digital experience using IntelePeer's CPaaS solution. Our key message was "Only IntelePeer Atmosphere empowers you to seamlessly connect with customers when it matters most, on the channels they use the most." To distribute this content to the target audience, we executed an omnichannel media campaign.

After a month of media targeting, the IntelePeer sales team began a highly targeted outreach (including calls, voicemails, LinkedIn messaging, emails, and direct mail) using our Sales Playbook that we created for them. These Sales Playbooks included sales scripts, voicemail scripts, LinkedIn messages, and emails promoting our digital content. We did this to further educate IntelePeer's clients about the communications capabilities they were missing out on within their existing IntelePeer account—and to schedule meetings with their Account Executive.
Only IntelePeer Atmosphere
empowers you to seamlessly connect
with customers when it matters most, on the channels they use the most.
The results.
The "Digitally Fluent" campaign was highly successful, showing that IntelePeer has the ability to provide the benefits of the cloud and support these IT professionals in a time of confusion and digital transformation. The campaign generated:
351
meetings for the IntelePeer sales team
$3.1
million in pipeline revenue
The awards.
Our work with IntelePeer has also been recognized with multiple awards including:
Killer Content Award
B2B Marketing Exchange
Best Results of any campaign
The Fourteeners Awards
Best Long-Form Asset
The Fourteeners Awards
Best ABM Program
The Fourteeners Awards
Best B2B Product/Solution Campaign
The Fourteeners Awards
Best Sales Enablement Program
The Fourteeners Awards
We'd love to
work with
you

.