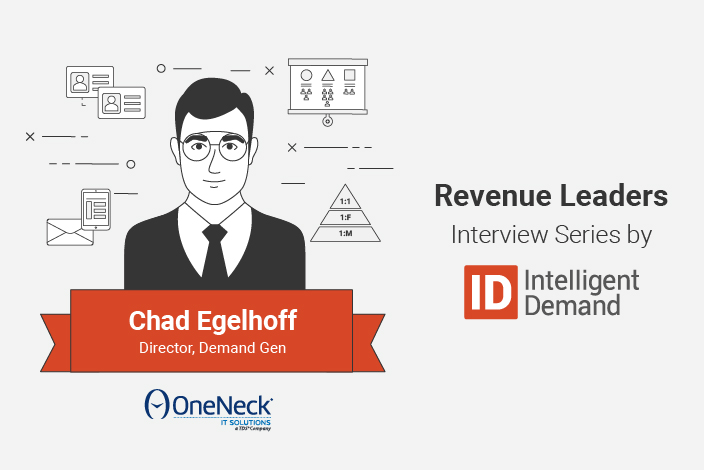 Revenue Leaders: Chad Egelhoff, Director of Demand Generation at OneNeck
We're lucky at Intelligent Demand to work with some of the best and brightest B2B marketers and sales people in the world. The ever-evolving B2B landscape has given rise to the modern B2B marketer and now marketing has more ownership over revenue growth and pipeline than ever. The focus now is less on marketing KPIs and sales goals, but rather a united force around revenue – and the leaders of the modern approach to organic revenue growth are helping to push the boundaries in technology, strategy, and innovation. We call them Revenue Leaders.
We couldn't wait to put ID's longtime client, friend, and tech industry Revenue Leader Chad Egelhoff in our revenue hot seat. Director of Demand Generation at OneNeck® IT Solutions, an expert provider of hybrid IT solutions tailored for mid-market and enterprise companies, Chad is responsible for the demand generation activities at the company while also leading the transition from traditional lead-centric marketing to an Account Based approach. He is an accomplished B2B revenue growth expert, Certified Product Owner, Scrum Master, and champion of Agile methodologies.
Here is what Chad had to say about ABM, content experience, and go to market strategy:

How do you evaluate a company's readiness for getting into Account Based?
Chad: The first question I'm asking is, do you have a profile of accounts that delivers more value to your organization as a customer? And if that's the case, does it then make sense for you to focus more of your marketing and sales efforts to land more of those accounts versus an inbound strategy or continuing to scale your budget and tactics with a really wide net? Have you taken your internal customer data and figured out who those most valuable customers are? And then, can you effectively identify that ideal customer profile? What's the profile of your highest margin accounts – those who you're seeing total contract value grow over time, those with the highest retention, etc.
If you can quantify some of that stuff and then utilize some firmographic data, or by vertical, start to identify the common thread for those key, high profile accounts, then that's really a great first step.
Have you evaluated your own readiness for Account Based?
Chad: We are in the midst of the journey here. We are somewhere in the hybrid model and currently piloting an Account Based approach. A lot of our effort comes from the upfront work I've already talked about in building that ideal customer profile and getting aligned with the sales teams. Right now we have some technology that helps us do a little bit at scale and we're trying to operationalize it.
For us, it's how do we start small with a pilot? How do we measure effectiveness with some key metrics? We start by proving the hypothesis that, if we can find and identify our best customers and validate key threads of data that point the way to who a really valuable customer is, then we can get aligned with the sales team. And, we can use technology to then get more relevant messaging in front of them, at the right point in the buyer's journey, and have a higher chance to convert. And I always say more relevant. A lot of people like to say personalized, and absolutely when you can do that, personalization is great – but to do personalization at scale can be really difficult. For us, we are just trying to be increasingly more relevant.
I think people often talk about best practices, but I'm just trying to get to better practices. So, how do we incrementally improve on a number of different metrics? From an ABM standpoint, it's about consistently getting the right message in front of the right customers that will drive better engagement with our brand and move those companies along the buyer's journey, with our guidance, closer toward having those conversations with our sales teams.
Are there any must have elements that you think are required to succeed with Account Based?
Chad: What I just explained…that ideal customer profile and actually starting to get some of that segmentation done. But then the next step is really, from a qualitative standpoint, sales and marketing alignment. That's really one of the keys – can you collaborate and get to a sense of agreeing on that ICP and maybe even into some kind of a tiering model on who you'd want to pursue as a customer. From there, you can start to add on some technology to help you more effectively get your message in front of those key accounts.
What do you think revenue leaders in marketing, sales, and customer success should do to build alignment amongst their teams to ensure a cohesive approach to Account Based?
Chad: The big thing is aligning around the 'who.' Who are we going after? I think that's the biggest thing because if we're not aligned around the 'who' and we're going after different accounts, then you don't (and sometimes I hate using this buzzword) but you don't get the synergy right. For example, if the hunters on our sales team are prospecting against the accounts I'm feeding targeted display ads to, and I'm targeting socially on LinkedIn and we're getting a consistent message in front of them, that alignment works. If they're going after different accounts than what we're focused on, then at the end of the day there's a lot of waste in our investment.

I think aligning around the 'who' is a big thing and then a lot of this gets back to your organizational alignments – what are the conversations we're focused on? It really comes down to collaboration, alignment around the targets, alignment around the message, and then align around the tactics and visibility. Our sales team should understand what we're doing as a marketing team. We should have feedback and two-way communication around 'what are you hearing at the account level'? Does it seem like the 'what' we're talking about to that 'who' is relevant to them? Or do we need to switch up that messaging because it seems like they're either in a different part of their buyer's journey or their challenges and objectives are better fitting for a different kind of a conversation
In other words, focusing on the 'who' and 'what' and being aligned is critical. I think it starts at the leadership level and then you make sure it's driven down through the teams to ensure we're all on the same page in order to successfully execute.

Where in your campaign planning process does messaging strategy and content planning fit?
Chad: From a messaging strategy standpoint, it's really as early as possible. When I think about messaging strategy, I think it's developed ideally before we even start talking about campaigns. Our messaging has to support our go to market strategy, which includes how our people and products can help our targeted accounts meet their business objectives. I think content planning comes later, but I really think it starts with a solid messaging strategy. If you have that, and you're aligned, then your content plan can evolve nicely to support the buyer's journey and your campaign objectives.
What internal stakeholders do you pull into messaging and content planning?
Chad: Our messaging and content is mostly driven by our product marketing team. But it definitely needs to include leaders in product early on to align around the overall strategy and to help build the use cases the content must speak to. I think it's also important that your sales teams have a seat at the table to validate the content and make sure it jives with what they're hearing from their customers.
Where do you think content experience fits best into end-to-end revenue programs?
Chad: I think the content experience and the content itself is really the engine that drives the revenue program. I think the most important thing is removing friction from this engine to allow our prospects to more easily consume content that is increasingly more relevant to the buyer. I think there are some partners out there who make this really easy. We're an Uberflip customer now, but I've also had experience finding really great results with PathFactory.

My goal is to create a program that gets more of the right eyeballs on our content, in an easily consumable fashion. If our content is delivering value back to the buyer, that engine will start to accelerate the buyer in their journey. I think the best brands are really looking at some of those B2C experiences, because at the end of the day our buyers – even if they have titles and they're part of a demand unit – they're people, right? We have all sorts of examples of how people interact really well with some of the best brands out there. A lot of them are more consumer focused, but what those brands are doing really well is removing friction from that journey and being really easy to engage with.
As an organization and as a marketing team, when you're talking about content experience, that's what we're trying to do—drive the friction out of there, wherever we can.
Who at your company is most responsible for leading the creation of go to market strategy?
Chad: For us, it starts at the C-level to make sure the organization is aligned with where we want to go. That starts with asking very fundamental questions like, "Where do we see growth in the marketplace? What kind of value are our customers asking for from us? How do we position ourselves to grow alongside our customers for the short, but most importantly, the long-term?" And then it's really led jointly by our product and marketing teams. I'd say more so by our product teams, but it's definitely a collaborative effort. Our sales team is also an essential stakeholder in building and validating the strategy.
It's important for us to constantly be checking back in and validating our go to market strategy still makes sense based on what they're seeing from their customers. But, at the end of the day, it really comes back to what we're seeing in the data and from all those different sources that we can collect it from. That helps us light the way for where we're going as an organization and informs our go to market strategy. It is very much a collaborative effort.
How do you activate and operationalize your go to market strategy?
Chad: It needs to be communicated early and often to the organization. Each of our teams' objectives have to be triangulating to push the same outcomes. So, to make that a bit more real, our go to market strategy is going to be supported by our marketing strategy, whether that be demand gen, field marketing or digitally. The messaging is consistent all the way through. We link that into sales enablement content where the same things that we're talking about in our marketing campaigns comes through into how we're enabling our sales teams.
During sales trainings, we're showing specific examples of what we're doing to drive demand in the marketplace around those solution conversations. Our field marketing team is driving prospecting with sales around those key solutions, while at the same time reinforcing the sales enablement materials that we reviewed during those trainings. Our sales team is compensated to drive those growth products that align with our go to market strategy.
You have to have that golden thread from planning to execution, all the way down through the entire team.
What are the most important connecting points between the go to market strategy, the demand program, and sales enablement?
Chad: Simply put, it's important the entire organization is rowing in the same direction. When we roll out something like a go to market strategy, our executive leadership team travels to get in front of the entire organization– and not just marketing and sales, so everybody knows, 'hey, here's the 'what' AND the 'why' we're moving in this direction as an organization.When you have that consistent and constant kind of messaging to your internal organization, it gives people the chance to really marinate on some of those decisions. You put the data in front of them to explain why those decisions were made. It includes our own internal customer data, and validations with our agency partners like Intelligent Demand who are like, 'let's build the case for why we're moving in this direction'.
Once we have alignment across the organization, and across our ecosystem of partners, we can move forward in the same direction with greater swing. For us, it's an ever-evolving process, but when you focus on cross-functional alignment, momentum comes quickly.
Hear from more industry Revenue Leaders: