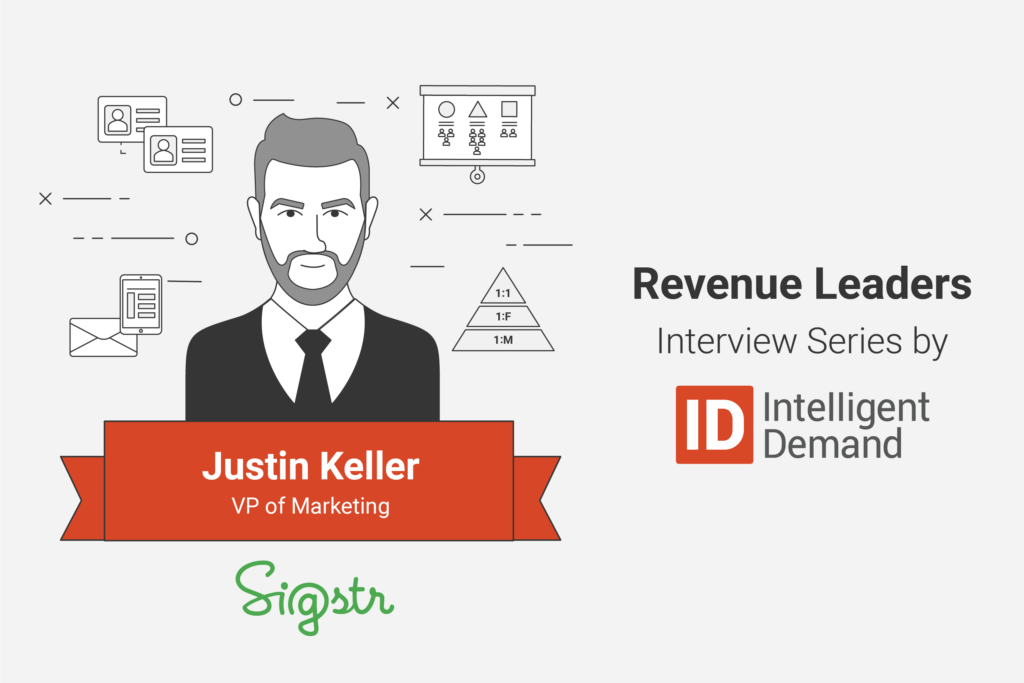 Revenue Leader Justin Keller from Sigstr on Relationship Development and ABM
In the world of B2B, there are few topics hotter than Account Based Marketing (ABM). But there's a big difference between "talking about ABM" and "doing ABM." And then there is connecting ABM to revenue.
If you are reading this blog, you have probably already bought into ABM. You've watched the webinars, attended the conferences, read the eBooks, the reports, been to the workshops, and maybe even started a pilot. We work with companies every single day who are at very different stages in their Account Based journeys, and what we have learned along the way is that the same questions and pain points continue to rise to the surface. With this in mind, we wanted to see how some of the best and brightest minds in B2B answer ABM's most-asked questions.
We talked with Justin Keller, VP of Marketing at Sigstr – the leaders in email signature marketing – to talk about ABM and some of the challenges Marketing and Sales teams face when making the transition from lead-centric to Account Based. An industry influencer and expert B2B marketer, Justin speaks regularly across the country about the power of personalization, relationship development, Account Based Marketing, and content marketing strategy.
Here is how Justin responded to our rapid-fire ABM questions:
Why do ABM pilots fail?
Justin: Two reasons:
#1 People expect results really quickly. It's a long-term investment and you need to let it play out. It will take a while to figure out what works and what doesn't.
#2 A lack of Sales and Marketing alignment. If Marketing is doing a really smart ABM program but Sales isn't aligned with it, it won't work.
Who do I need on my team to make ABM actually work?
Justin: Sales and Marketing Ops is pretty critical. And buy-in from Sales and Marketing leadership. If these people are all aligned, then they can get their respective Sales and Marketing teams to fall in line as well.
How do I build synergy between Sales and Marketing to create a cohesive approach towards ABM?
Justin: I think it's super important for Marketing to own a pipeline or revenue number, which may be uncomfortable for some marketers. But when Marketing is responsible for building pipeline, then they get to call the shots with Sales and kind of force Sales to play along with them.
I want to move from lead-centric to account-centric marketing. What is the first thing I should do?
Justin: Identify your Total Addressable Market, shrink that down and figure out what is the first small chunk of accounts that you want to win. Definitely start with a small number of accounts, work really hard on generating opportunities with them – figuring out what works and what doesn't. Then scale up from there.
How do I discover multiple demand units in each of my target accounts?
Justin: If you're really scrappy I think it's really about hustling LinkedIN and social media, and trying to figure out who are the strong internal voices. If you've got a little more access to data, it can really help you map out organizational structure at a company. What we do is identify one really strong champion and a couple of influencers – and that's where we start. We work really hard to build relationships with those people and then we use them to start to navigate through the rest of the organization.
What are the ABM reporting must-haves?
Justin: I think at the very basic, it's:
The number target accounts
The number of opportunities generated, and
The number of opportunities closed
From there, you want to start to layer in engagement metrics. Either ad impressions, time on site, pages visited, etc… At Sigstr, we're measuring relationship development, so we're tracking how good of friends are we with the people at our target account. Are we adding more people to that account? And basically quantifying relationship development that predicates revenue for us.
Can we simply rely on tech to do the ABM heavy lifting?
Justin: No.
You need no tech so start ABM. And depending on how sophisticated and complicated you make it, the more tech you can add on doesn't matter. You need to rely on being clever, and creative, and focused to make ABM work.
How can adding Sigstr to our tech stack help my organization's ABM program perform better and drive revenue?
Justin: First of all, opening an opportunity. We have a lot of customers who use Sigstr to create personal, branded signature campaigns. So, when we're emailing a company called Cloud, it will say 'Sigstr loves Cloud'. Only people at Cloud will get that and when they click on it, it takes them to a custom content experience built just for them. It's really good for trying to create an opportunity where you all you can really do is email or call – it makes those emails way more valuable.
And then from there, we align all of the content for every email that goes to that account to their stage in the customer journey. They're constantly getting the right content at the right time.
Want to learn more about Sigstr?
Talk to our team about how to incorporate Sigstr into your tech stack and launch a successful Account Based program.
Read more Revenue Leaders interviews: