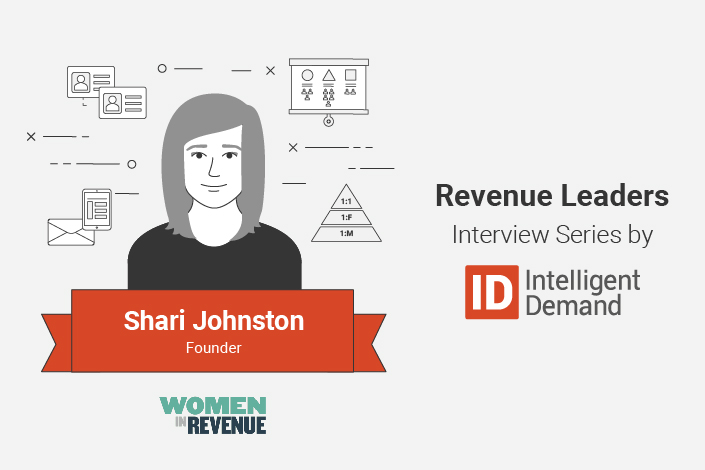 Shari Johnston – Founder, Women in Revenue
We've been in the B2B space for quite some time at Intelligent Demand, which means we've met a lot of smart people – whether its at conferences, the clients we work with, or simply by being a part of a network of truly talented marketing and sales leaders. We love it when we come across people who are not only owning (and crushing) revenue at their company, but individuals who are pushing the boundaries of B2B marketing innovation, challenging the status quo, and disrupting the space.
When we heard about the work Shari Johnston is doing in the world of B2B marketing, we wanted to get her take on some of the hottest subjects in our industry. Founder of the rapidly growing, female-led leadership group Women in Revenue, Shari is not only putting a spotlight on women in tech, but she is an industry expert in account based marketing (ABM), demand generation, go to market strategy, technology, and digital marketing.
Here is what Shari had to say about account based marketing and go to market strategy (take notes):
How do you evaluate and quantify the potential positive impacts that account based could make at your company?
Shari: I see very few business models that could not at least benefit from moving to an account based at scale approach, but see the ultimate impact as a sliding scale. The larger, more complex, longer sales cycle, less commoditized product you have in your business model, the more value you will see from an account based approach.

How do you evaluate a company's readiness for getting into account based?
Shari: The number one indicator is executive support and alignment. This has to be a GTM strategy embraced at the CEO level and championed by the sales AND marketing leadership teams. This is often the biggest hurdle. [For] half of my clients, the account based approach is initiated by marketing and half nowadays by sales.
Ultimately both sides need to embrace the change to see the level of success possible.
How well positioned do you think companies who have been doing integrated demand generation are for adding account based into their go to market strategy and demand program?
Shari: If companies are executing integrated programs well, they will likely be in a great place for account based success. The hurdles I see for teams are 1) moving to a quality over quantity mindset, 2) having a much tighter alignment with sales, and 3) teams embracing a much more customer centric mindset. This often requires more time and research and gaining a deep empathy and understanding of your customers, and often takes time to fully embrace.
Are there any must-have elements that you think are required to succeed with account based?
Shari: There are four foundational elements of moving an organization to account based:
Aligning around a target account list
Creating account teams to drive revenue
Operationalizing the team meetings and operating weekly to drive success
Measuring the teams' success using account based KPI's. With these in place the teams have the foundation to get to the "fun stuff" of running account plays, building custom content, and landing accounts together.
What do you think revenue leaders in marketing, sales, and customer success should do to build alignment among their teams to ensure a cohesive approach with account based?
Shari: I have found an account based strategy workshop is a great way to get it all out on the table and address many of the teams challenges and hurdles all in one setting. This cross-functional dialogue can reduce friction by making business decisions and addressing concerns so the team can run effectively. I have found all these functions, once aligned, love account based. They are in it together to move accounts across the line rather than playing the handoff relay race approach that often causes friction and silos in organizations.
Buyer's don't just interact with one function at a time and independently, so why should we operate that way?
Who at your company is most responsible for leading the creation of go to market strategy?
Shari: Responsibility for GTM strategy varies throughout my clients, more often I would say it falls on the marketing leadership but truly needs to be co-owned by all the GTM leadership team as a whole. If marketing is creating content and programs for one audience, and sales is selling to another, your results will fall flat.

Do you have a defined ideal client profile (ICP)? How did you develop this? How has it evolved?
Shari: I work with my customers to develop their ICP typically through both data analysis of their current customer base and through hands-on workshops with their GTM team to uncover both the firmographic attributes that make up their ideal customer, but also the impact criteria that can often play a pivotal role in the buying process. I like to think about it as an art AND a science. You need to use a data driven approach but also integrate in your deep knowledge of your own business as an added layer to come up with your target accounts.
How do you activate and operationalize your go to market strategy — how do you bring it to life across the company?
Shari: The keys to success to activating and operationalizing a GTM strategy are embracing Internal marketing, team training, supporting content and tools and most importantly executive leadership support. I encourage my clients to have an internal project name for their target account list, provide training at their SKO's to rally excitement and create an infrastructure that clearly outlines the roles and responsibilities for the teams to act on. Providing a strategy playbook is half the battle, they other half of success falls on front line managers to offer training, coaching and continue to align around the tools, processes and KPI's.
What are the most important connecting points between go to market strategy, the demand program, and sales enablement — i.e. what are the through lines that ensure alignment between those three key parts of the revenue program?
Shari: One amazing piece of an account based approach is it can help align connection points between all functions. Product, demand gen, and sales enablement all struggle with how to focus and what to build first. By aligning around a target account list and a market map of your key segments, you are giving your team a roadmap for alignment and focus. If 30% of your target accounts fall into the healthcare segment with an aligned value proposition and potential impact, this is a great place to align your team around focused content, product features, and programs that will produce the most revenue for your efforts.
Tell us more about Women in Revenue!
Shari: Women in Revenue was founded in August 2018. The group is focused on marketing, sales, and customer success professionals who are the current and future leaders in revenue. I am in awe of the talent of almost 800 members this group now holds. I believe the collective and progressive knowledge of this group is world-class and plays a huge part in scaling organizations. The amount of support, networking connections, education, and friendship we collectively all bring to one another is near and dear to my heart. There are countless stories even within a year of how the group has helped elevate my career and the careers of many of our members.
I can't wait to see what the future holds!

Learn more from Revenue Leaders in B2B: