I don't want to bury the lede here.
ID was recently named Uberflip's Service Partner of the Year at the 2018 CONEX Conference. This was a surprise, and just so you don't think I'm making that up, here's proof.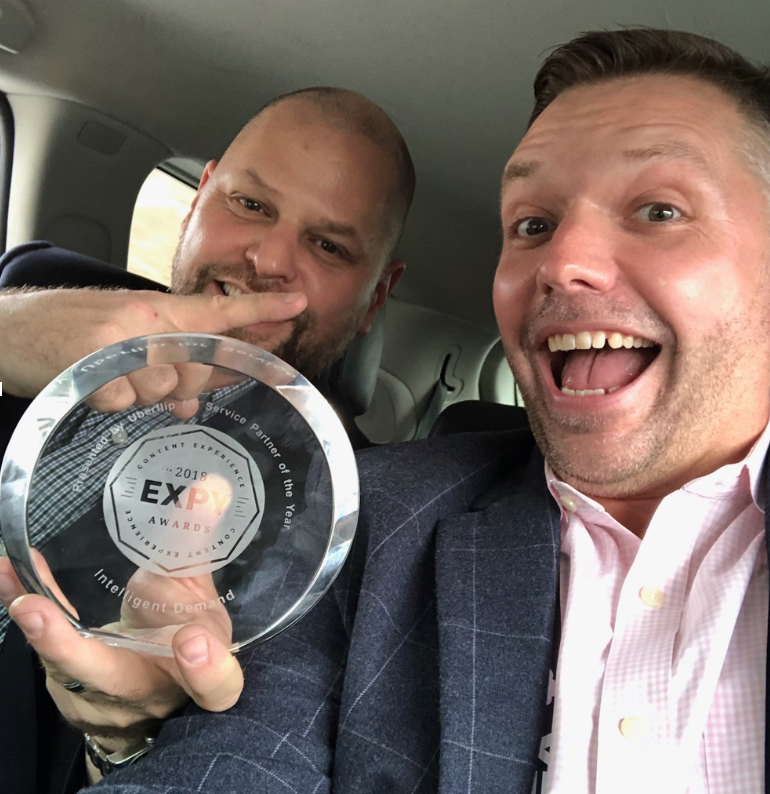 That's ID's CEO John Common and Director of Business Development Mike Swainey. They are not actors.
Now, I could write some veiled chest-thumping post about how we're changing the world or that this partnership is going to transform your business. But I'd rather focus on what I think this signifies for our clients.
The legacy rules that governed content marketing have been overturned. The fact that this agency, or any really, is not only partnering with platforms like Uberflip that challenge traditional content-delivery mechanisms, but also being honored as a premier partner, means more than anything that the industry is adopting content experiences. It's not about us. It's not about Uberflip. It's about doing something that demonstrably works better.
What does engagement mean anymore?
Remember the old days of drip campaign architecture? Sure you do. For many readers, the likelihood that immediately before reading this post, you left a meeting where your team got updated on the performance of your 15-touch nurture is pretty high.
So here's the question: why 15 touches?
Is it because it takes 15 pieces of content to convert a prospect? No.
Is it because Costco recently entered the demand gen business and it's cheaper to buy in bulk? No (and don't get any ideas, Jelinek!).
It's because we need a near constant stream of touchpoints, spread across as big of a window as possible to get the conversion rates up. Why? Well, your campaign hits people when you want to hit them—not when they want to be hit.
If you cracked open a program report and looked specifically at an individual lead's digital behaviors, you'd see engagement manifest itself not as a slow, steady increase in interest. You'd see a random spark. When the spark ignites is unique to the individual.
Sure there are tons of variables.
The lead's title

The lead's interests and hot buttons

How much active demand their organization has for the service you're offering

Your brand's recognition

The message

The time of day

Like fifteen more variables…
But what it comes down to is this: did you give a lead a message that resonated + did that lead have the time, focus, and energy to actually engage?
Engagement isn't an incremental gain. It's a spike. It's not linear, it's three dimensional. We can't predict when it happens; but we can create environments (read: experiences) that capitalize on it when it does happen. TWEET THIS
And the long-drip email sequence is not that environment.
You send an infographic Monday.

Lead doesn't open. Too busy.

You send a video Thursday.

Lead has time, but subject of video doesn't resonate. She doesn't open.

Your competitor sends pretty much same infographic you sent Monday, but later on Thursday. Lead opens, forwards.

Competitor's SDR team picks up the phone and schedules meeting with lead.

You send case study following Tuesday.

Lead unsubscribes.
The issue wasn't your content (maybe, different blog article). It was your timing.
Content Experiences take the timing variable off the table.
Again, the significance of the Uberflip award is not about us winning an award (but, like, let's celebrate. Am I right?). It's that both Uberflip and ID are basing large, comprehensive, integrated strategies off the above premise.
There are better ways to do things. A Content Experience is just better. Period.
Uberflip wants to transform how content is distributed to audiences. ID wants to transform how our clients grow their revenue. Both organizations know how loaded the term "transformation" is and do not care. Period. TWEET THIS
How does your organization actually transform?
Simple (kidding).
But seriously, transformation comes from working with partners that know the end goal, how difficult it will be to achieve, how uncomfortable it will feel to do new things, and still choose to work with you.
Enter, ID and Uberflip.
Our partnership is a joint go-to-market approach where Uberflip provides the platform, and we here at ID provide the expert resources and services that drive real revenue transformation. Together, we have the unique ability to provide our clients everything they need to rapidly transform the way they target, engage, sell to, support, and grow relationships with their best customers—all putting content experience at the core of an ID-designed revenue program.
ID's strategy, creative and technology teams are master-level users of Uberflip (which is why they make the best guides) who have experience across industries, use cases and yes, budget levels. Our content experience developers and integration specialists work side-by-side with revenue growth consultants and creative strategists to design, build and launch content experiences —delivered quickly, on brand, and on strategy.
If you aren't already doing this and want to transform the way content fuels your sales funnel and your ABM program, get in touch with us!
Want to accelerate sales pipeline with content experiences. We have a webinar for that! Watch here.
By the way, this is the video Uberflip played when we won the award, and we liked it a lot.