Relevant Content is King​
We like Content Marketing Institute's definition of Content Marketing:​
"… a marketing technique of creating and distributing valuable, relevant and consistent content to attract and acquire a clearly defined audience – with the objective of driving profitable customer action."
Today, remarkable content should play a central role in every stage of your customer's journey and in each of your chosen media channels.
Why is this? Attention scarcity. Buyers are sick of being endlessly interrupted by narcissistic, product-focused advertising from brands. And, they're awash in mediocre content.
When done properly, Content Marketing truly engages, educates, solves a problem, shares a unique point of view, entertains, adds value, and is always highly relevant. Great content is the fuel for your revenue engine.
ID'S APPROACH TO CONTENT MARKETING
The content that tells your story has to be more than just attractive or clever. It must be purposeful. It should be truly relevant to your target audience and what they care about. It should be accountable to your revenue. It should convert.
ID's approach to content marketing begins with a deep understanding of your audience personas: their rational needs, emotional drivers, goals, challenges, opportunities, buying process, key areas of interest, trusted sources of information and preferred media channels. We identify intersections with your unique value proposition—areas where you can bring a credible, differentiated, valuable point of view.
Then we marry all of these insights with expert knowledge of conversion best practices, your revenue strategy, your technology stack, and your analytics plan to develop persona-relevant, revenue stage-targeted and channel-optimized messaging, content and creative.
Every piece of content we create helps propel leads toward the next stage in their buying journey.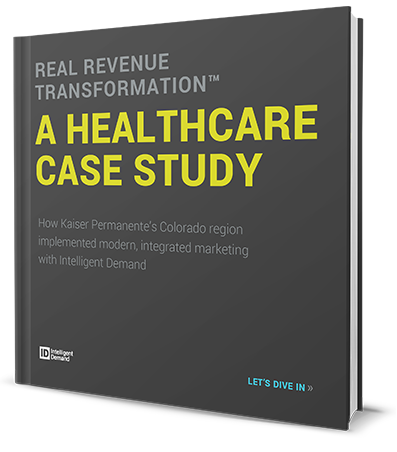 Real Revenue Transformation™ A Healthcare Case Study​
Find out how Intelligent Demand and Kaiser Permanente collaborated to deliver impactful ROI across complex, rapidly-evolving B2B and B2C healthcare-buying environments.
See the work