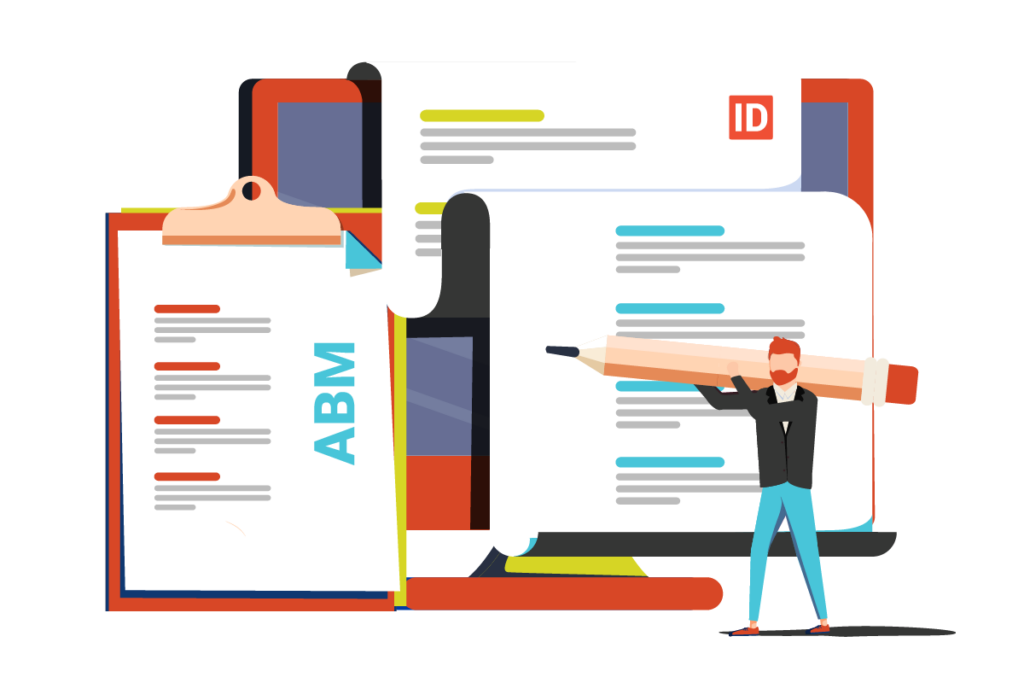 Making a Case for Account Based – The Statistics
Account based marketing (ABM) has been enjoying its time in the B2B spotlight for several years now, but compared to traditional marketing methods and practices, account based is still very much in its infancy. The entire field of B2B is still learning the best practices, the best tech, and the best approach. What is exciting about ABM in 2019, is that we're turning the corner from guessing, testing and piloting to telling, learning and creating actual account based success stories.
Bottom line, account based is standing up to all the hype and the organizations that are making the transition from lead-centric to account-centric are seeing the benefits not only in revenue impact, but in cross-departmental alignment that is fundamentally changing marketing and sales operations. The companies who are really leading the way are even building and allocating entire teams dedicated to account based operations and introducing 'Account Based' job titles. If fact, experience doing ABM might be the most valuable resume builder in the modern B2B landscape.
We understand that one of the biggest challenges to introducing ABM – especially at a mid-market or enterprise company – is getting approval from decision makers. So, with that in mind, we wanted to compile a list of compelling account based statistics designed to help you get executive buy-in — which is why we tied them all to revenue.
Enjoy!

ABM drives revenue, and here's the proof:
#1 Over 80% of marketers that measure ROI say that ABM initiatives outperform other marketing investments. And half of those say that the difference is significant. ITSMA
#2 Companies using ABM generate 208% more revenue for their marketing effort. FlipMyFunnel
#3 Organizations with a strong ICP have 68% higher account win rates. TOPO
#4 87% of B2B marketers agree that ABM delivers higher ROI. In terms of revenue, more than two thirds (69%) also report that their ABM programs have already delivered improvements, with 35% stating that they have seen significant improvements. ITSMA + ABM Leadership Alliance
#5 ABM continues to deliver higher ROI than traditional marketing; 45% are seeing at least double the ROI. 2018 ABM Benchmark Study ITSMA
#6 71% of B2B organizations are using ABM, interested in adopting the strategy or are testing it; 60% of those who have leveraged ABM for at least a year attribute a revenue increase to its use; and 43% of those using ABM for three or more years report it impacts the entire funnel, compared to just 12% of those who have used ABM for two years or less. Demandbase
#7 69% of top-performing account based organizations now have a dedicated account based leader. TOPO
#8 73% of B2B marketers surveyed said average deal size was greater with ABM accounts and 91% said that ABM accounts had higher ROI than the control group. SiriusDecisions – State of the Account Based Revenue Engine 2019
#9 80% of respondents from a TOPO survey said account based improves the customer lifetime value, improves win rates (86%), and delivers a higher ROI (75%). TOPO
#10 99% of marketers that are doing ABM achieve a greater ROI from their account based marketing programs than all other types of marketing. ITSMA + ABM LA
#11 91% of marketers that use ABM are seeing a larger average deal size, with the increase in deal size over 50% for a quarter of respondents. SiriusDecisions
#12 91% of marketers that use ABM are seeing a larger average deal size, with the increase in deal size over 50% for a quarter of respondents. SiriusDecisions
#13 Account based budgets are rapidly expanding, with companies increasing spend by 41% in 2019. Due to early successes, organizations are doubling down on 2019 account based investments. Budgets are focused on expanding current programs and extending account based into new segments. 2019 Account Based Benchmark Report, TOPO
#14 97% of marketers say ABM had a somewhat higher or much higher ROI than other marketing initiatives. Altera Group
#15 ABM delivers the highest Return on Investment of any B2B marketing strategy or tactic. ITSMA/Marketo
Let's Talk Shop.
Would your company benefit from an expert partner to help you launch an account based program at your company? Reach out to us — it's one of our true specialties. We love helping companies grow revenue with account based. And we know how to do it in the real world — with all of its imperfections and opportunities to make a big difference.