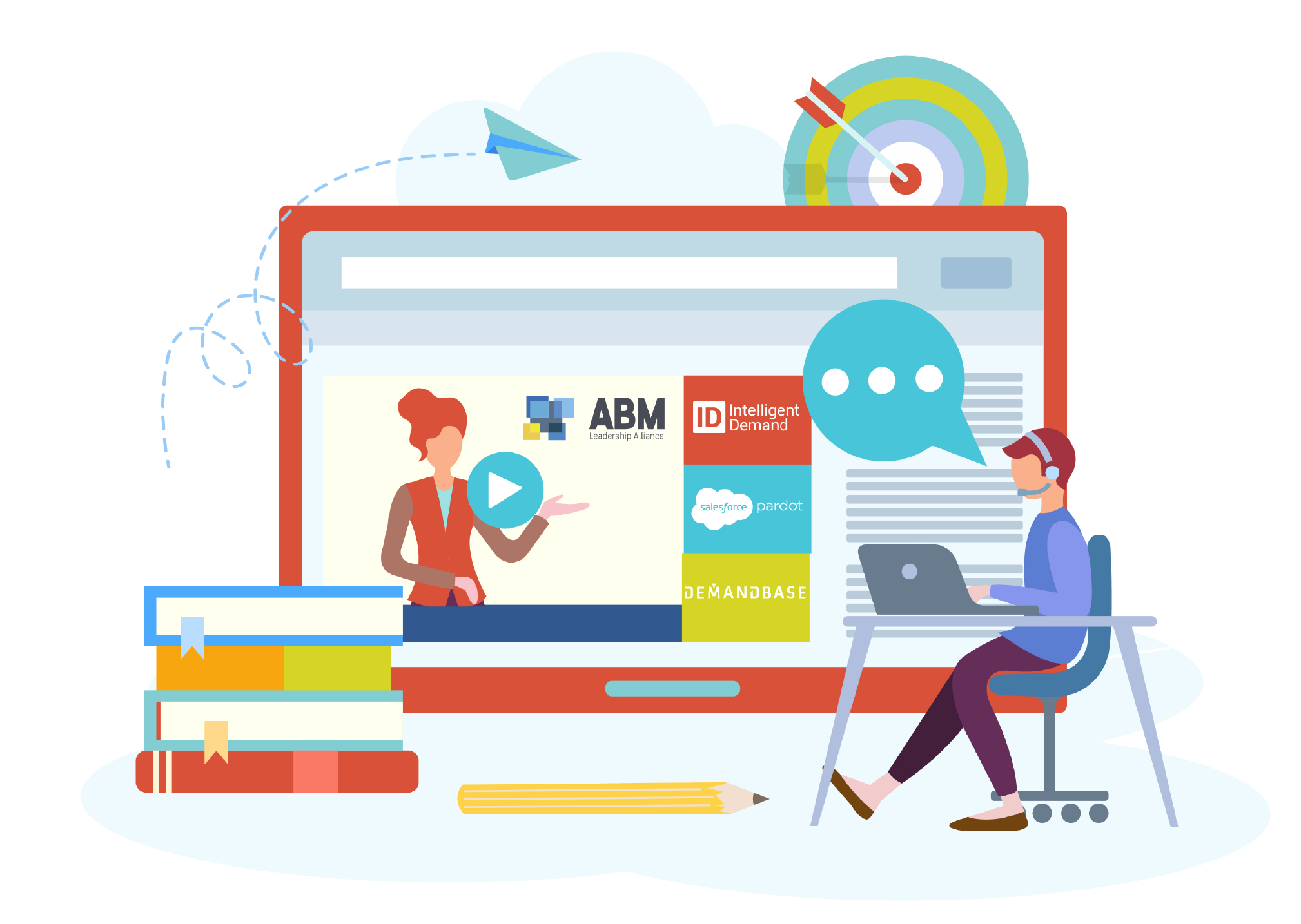 ABM Revealed: 2 Keynotes, 3 Content Tracks, 13 Customer Case Studies, 26 ABM Experts, Live Q&A
On Thursday, June 19th (PT), the ABM Leadership Alliance hosted a master class in Account Based. The half day virtual event featured keynotes by Intelligent Demand and Jay Baer, 3 different tracks based on alignment, engagement, and measurement, and sessions with 26 ABM experts from the largest B2B technology and service providers in the world.
Each session will give real world tips and advice about the right technology to implement at different stages of Account Based maturity.
Demystifying ABM Technology: matching the right tool to the right job

ABM is the master trend within B2B that is focusing and reorganizing the landscape of strategy, practice and technology. It's no surprise that the industry is filled with bluster, noise, and vendors who can sound like they're all saying the same thing. Meanwhile, revenue leaders have to make tough choices with their toolsets and budgets. They need a clear and strategic way to assess where they are in their ABM journey, what their true needs for tools are, and how to apply those tools to create successful ABM programs that drive revenue impact.

In this session, Intelligent Demand's CEO, John Common, and Technology Strategy Director, Eli Snyder, will offer guidance on the following:
How to know where your company is in its ABM journey
The key pillars of a successful ABM program
The ABM technology stack framework
How to use the framework to select the right tool for the right job
Introductions to 13 leading ABM vendors who can help power your ABM success
The Agenda (Now Available On-Demand)
B2B TALK TRIGGERS
Jay Baer, NYT Best Selling Author, Internet pioneer, 7th-generation entrepreneur, founder of five, multi-million dollar companies
We start the day with hall of fame speaker, Jay Baer, sharing his practical tips to distill and communicate your message from his new book, Talk Triggers: The Complete Guide to Creating Customers with Word of Mouth – yes, the one with the alpacas on the cover and all five stars on Amazon.
DEMYSTIFYING ABM TECHNOLOGY: MATCHING THE RIGHT TOOL TO THE RIGHT JOB
Eli Snyder, Technology Strategy Director, Intelligent Demand
John Common, Founder & CEO, Intelligent Demand
Imagine if you had a totally blank marketing slate. Budget was no issue, and you were tasked with building the ideal ABM Tech Stack from scratch. In this session, Eli Snyder and John Common, of Intelligent Demand, are going to walk you through B2B nirvana with a marketing technology build that features products and solutions from each of the ABM Leadership Alliance members. Aspirational and inspirational, but maybe easier than you
think.
CONTENT TRACKS: ALIGN | ENGAGE | MEASURE
ALIGN TRACK SESSIONS
Learn from the trenches how to align sales, marketing and CS to gain synergies and success.
Alerts to Activate!
Featuring Heidi Bullock, Engagio and Patrick Oldenburg, ServiceMax – a GE company
ABM Success Starts with Alignment: How One Marketer Achieved it at Two Very Different Companies
Featuring Jessica Fewless, Demandbase and Erica Short, Infor
How to Know if Account-Based is Working (or Not)
Featuring Eric Martin, SalesLoft and Matt Amudson, Everstring
The ABM Data Layer: How Meaningful Data Connections Lead to Higher Conversion
Featuring Asher Mathew, LeanData and Jeff Serlin, Intercom

ENGAGE TRACK SESSIONS
Explore strategies and tactics to increase engagement across accounts from content to video to social and more.
Create ABM Campaigns Your Prospects (and your boss) Rave About
Featuring Marne Reed, PFL and Jenn Kloc, Jellyvision
How Snowflake Drives 100% Engagement
Featuring Justin Keller, Sigstr and Bre Gaul, Snowflake
How to Be Simply Irresistible with Hyper-Personalized Video for ABM
Featuring Tyler Lessard, Vidyard and Jeff Howell, Alayacare
Scaling with Account-Based Play Design
Featuring John Hurley, Radius and Shari Johnston, Winning by Design
Evolve ABM to ABE (Account-Based Engagement)
Featuring Bryn Powell, ON24

MEASURE TRACK SESSIONS
Discover standards and best practices for data, technology and metrics.
Measuring B2B Success with Buying Groups and ABM
Featuring Matisha Ladiwala, InsightSquared and Sherrie Mersdorf, Evariant
Harnessing the Power of In-Person: How to Understand the Impact of Live Events on ABM
Featuring Alon Waks, Bizzabo and Chris Kneeland, Cult Gathering
Driving with Data: 3 ABM Lessons Learned
Featuring Cassandra Jowett, PathFactory and Melissa Alonso, Qlik
Drive Revenue with ABM: Enroll in a unique content series tailored for YOUR account based journey
You need real world knowledge to succeed with ABM — at every stage of your journey.
What stage are you in? Are you just doing the research, have you started a pilot, failed at a pilot, or are you ready to scale? Or are you one of the rare few who are already pushing the boundaries of ABM?
Whichever you pick in the form below, over the next several weeks, Intelligent Demand's ABM experts are going to deliver you real world, pragmatic tips that will help you use an account based approach to improve revenue performance at your company. Woven throughout the journey you choose will be recommendations for how to apply best practices, leading technologies, and real world advice that our team has learned from doing ABM in the real world (where time, budgets, and buy-in are serious hurdles), across multiple industries, multiple use cases, and multiple go to market strategies.
Let's talk shop.
Would your company benefit from an expert partner to help you pilot or scale a successful account based program at your company? Reach out to us — it's one of our true specialties. We love helping companies grow revenue with account based. And we know how to do it in the real world — with all of its imperfections and opportunities to make a big difference.