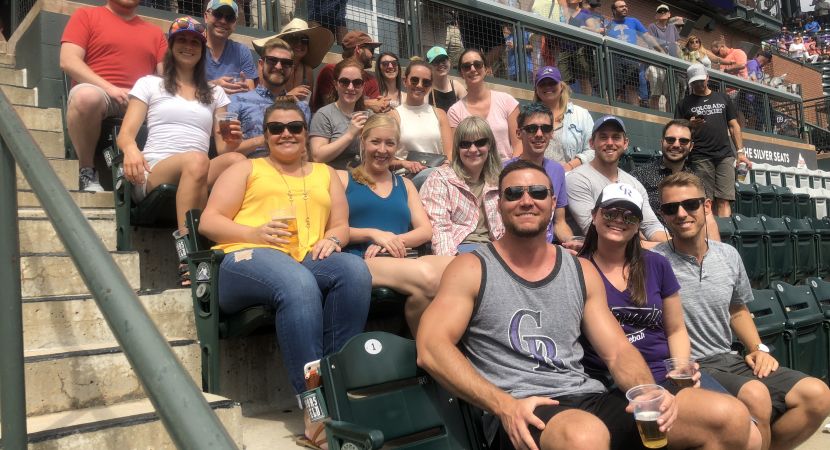 Built in Colorado recently named Intelligent Demand one of the top 50 small companies to work for in Colorado (and we're pretty sure this picture says it all).
As far as I can gather, the qualifying criteria was mostly about perks and benefits, such as our profit sharing plan for all employees, our remote work program, and job training. All of these benefits certainly help make ID a great place to work, but they aren't the real reason why people come to work at ID – and they certainly aren't why they stick around.
What makes ID a great place to work is our people.
I don't just mean that we hire nice people. We hire people who exemplify our company values. Yep, I'm talking about that list of words that gets posted on a wall somewhere and usually never comes up again after your first day of employment.
But not here.
At ID, we talk about our company values every single day. They are built into our interview process, and they are embedded into our real-life performance conversations. Our values define who we are as people, and they are the basis for the culture we co-create.
When people ask me about ID's culture, I tell them about our values, because what they really want to know is how it feels to work at ID. Our values not only guide our experiences as employees at ID, but our behaviors and decisions in every dimension and every touchpoint: with each other, with our clients, and with our partners.
Our commitment to our values is not only why people love working at ID, but it is key to driving our own success. Because we hire passionate, authentic, kind, people who are hungry to drive results and master new skills, we deliver for our clients… and our clients also kinda like us.
Just know that we have a single rule should you join the team: When you get asked what the best thing about ID is – you're not allowed to say the people (cuz that's what they all say).