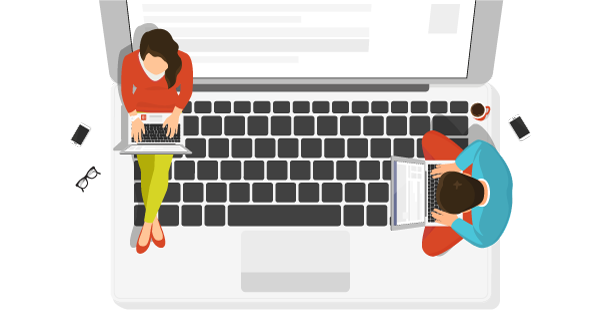 Account Based Success Pillars
When I zoom all the way out and look at the true state of ABM today, what I see is a tremendous amount of excitement, a tremendous amount of testing and learning, and frankly, a tremendous amount of noise. What we — as an industry — have not yet seen, however, are thousands of real world success stories.
That's because it's still early days in ABM-land. All trustworthy indicators are showing that ABM is genuinely crossing the chasm. And that's good news. The "better way" is still being written — and you get to write a chapter.
Account based approaches are being proven in the real world through the collective efforts of expert practitioners, analysts, change agents, and revenue teams inside more and more companies.
What we do here at Intelligent Demand is help revenue teams demystify ABM, cut through all of that noise, and shorten the time it takes to get to real, measurable results with their account based programs.
So let's dive in.
Getting good at ABM
After doing B2B revenue growth and ABM for nearly a decade, here's what I've noticed: a lot of revenue teams tend to stall in the "Revenue 1.5 – 2.0" stage of the maturity curve.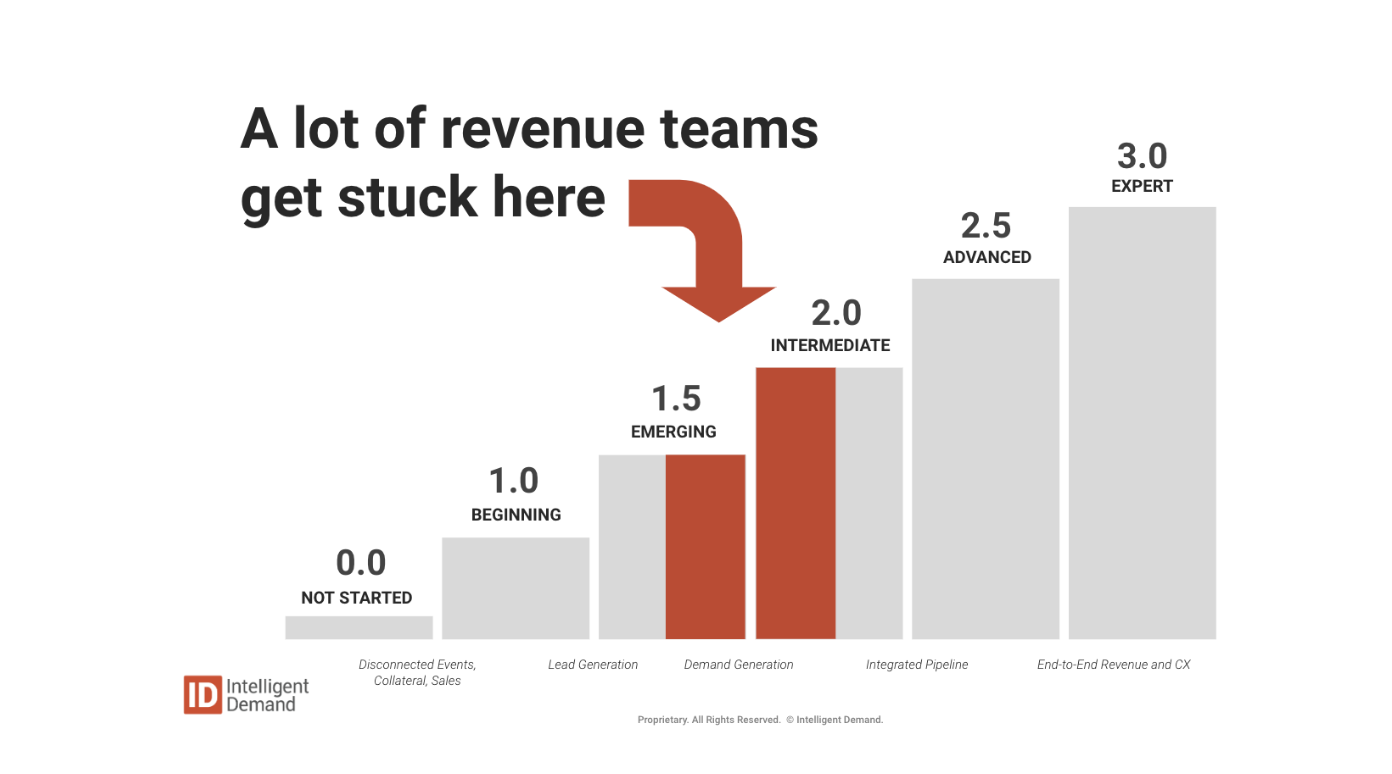 At this mid-stage, marketing and sales are sort of aligned, the team is producing some impact, and getting a few wins, but your momentum is starting to stall out. Things aren't exactly working as well as everyone had hoped or planned (or forecasted). Your program results, and the up-funnel indicators that predict pipeline and revenue success, are starting to flatten.
So what do you do about that? How do you break through?
This is where ABM comes in. We love ABM for lots of reasons, but one of the reasons is because ABM actually helps companies break through that mid-maturity space where results start to stall and flatten out. If you commit to it.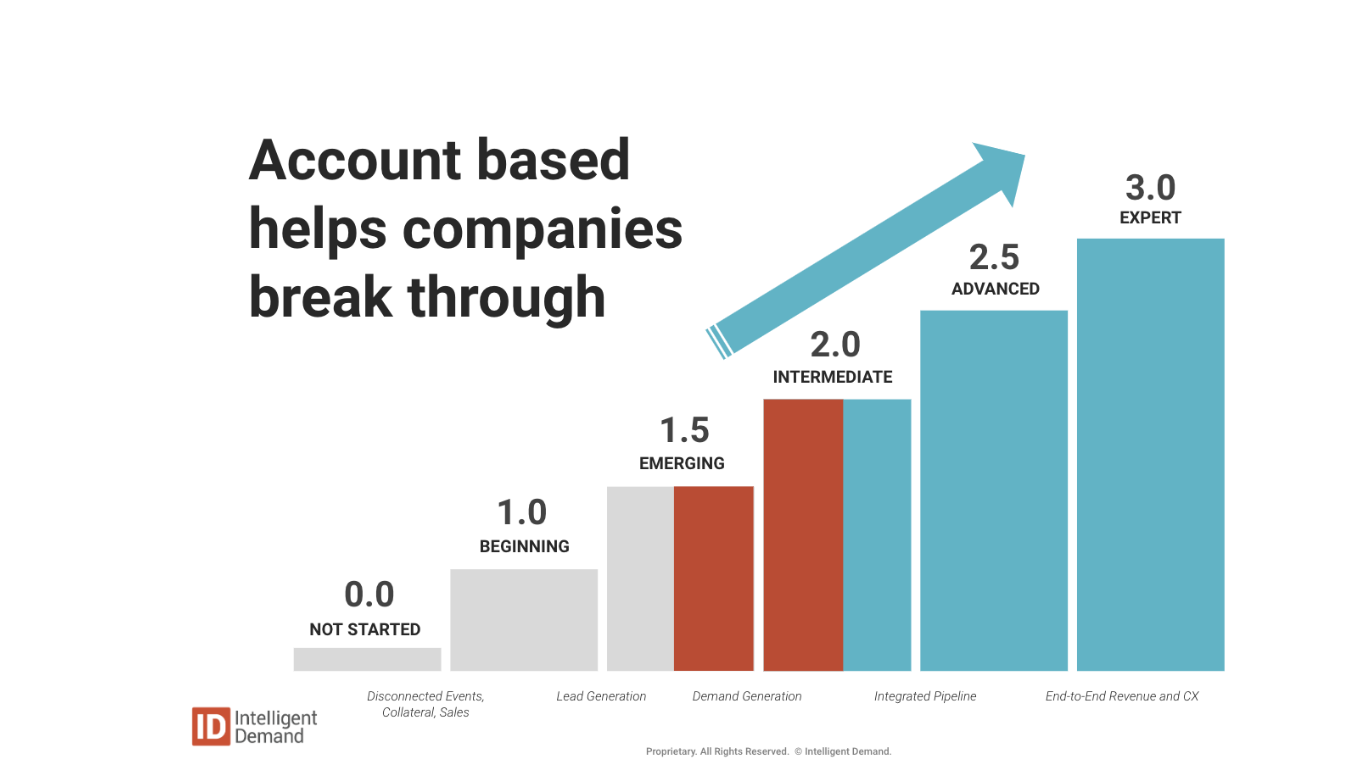 Why does ABM help you break through? (It's not magic.)
ABM isn't about faith or magic. There are specific reasons why account based is so transformative. There are guiding principles that revenue teams can focus on, execute, and use to grow revenue better with account based. We call them the 7 Success Pillars.
And here's the secret: they don't just work for ABM. If you apply these pillars in every integrated campaign you do, you will not ONLY get better at account based, you're going to get better at B2B revenue growth.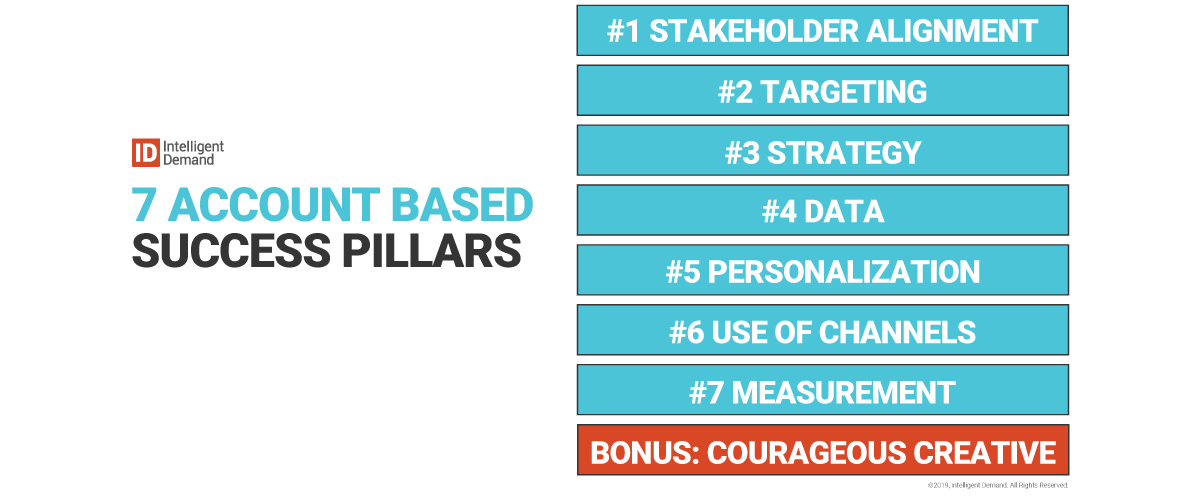 #1 Stakeholder Alignment
This is about building what we call one revenue team that works together to grow revenue: product, sales, marketing, customer success, and yes, the c-suite. Account based is a team sport. Anything short of that will deliver disappointment.
#2 Targeting
This is about being far more strategic and far more intentional about where you place your company's finite time, budget, and staff focus. This starts with a clear understanding of your ideal customer profile, your target account list and account tiers, your target buying centers, and target personas. And with those decisions made, you can prioritize, personalize, resource and measure in a smart and effective way!
#3 Strategy
This is about moving from product-centricity to customer-centricity. It's about moving from random acts of tactics to deeply integrated campaigns and programs. It's about always innovating. And it's about always closing the loop with results data and doing more of what works, and less of what doesn't.
#4 Data
Account based is about using data strategically at every step of your campaign process, from customer insights to strategy development to execution, all the way to measurement. This takes effort, to be sure. But it's truly essential.
#5 Personalization
Imagine a world where your company speaks to your target accounts, and the actual humans who hold your future revenue in their hands as if you actually know them. That is what personalization is ultimately all about. Personalization is how you become more relevant to your customers and prospects. And when you do that, they thank you by engaging, by showing up, by choosing to buy from you the first time, and by staying around to buy from you a second, third and tenth time.
#6 Use of Channels
This pillar is about carefully selecting, and then expertly synchronizing and orchestrating your use of traditional channels, digital channels, event channels, human channels. This is where you not only improve end-to-end engagement, conversion and revenue results, but it's where you can make a huge impact on better customer experience (CX).
#7 Measurement
This pillar is about transforming how you define and track success by bringing an account-centric approach that works alongside the lead-centric approach you are likely doing right now. Doing this requires cultural as well as technology and data related changes. By focusing on the things that truly matter for growing revenue, you bring efficiency and alignment to your entire revenue program.
#8 Bonus Pillar: Courageous Creative
The bonus pillar for successful ABM (and B2B revenue growth) is Courageous Creative. Why is this so important? Here's why: At the end of the day, the only thing that actually influences human behavior is the messaging, content and creative that we share with our target audience.
Everything else — while incredibly important and necessary — ultimately comes down to a "human moment" where that person either pays attention (or not), cares (or not), believes (or not), is inspired, educated, provoked and spurred to action (or not). That's what Courageous Creative is all about. Let's be honest: This world is filled with boring, timid, same-y B2B creative, messaging and content. Let's not do that. Your value prop and brand deserve to stand out and truly resonate. And the good news is that when you tell better, more compelling, more creative stories, your engagement and conversion rates go up. Imagine that!
What comes next?
I promise: if you consistently apply these seven pillars (eight, really), you will absolutely grow revenue more effectively and more efficiently. (If I am wrong, I'll buy you a bottle of your favorite whisky. Test me.) In fact, I recommend you use these pillars as a checklist whether you're just starting ABM or even if you have become an ABM expert.
Of course, you don't become expert in ABM overnight. It's a journey! But you knew that, didn't you? Do you want to learn what the real world account based journey looks like — from preparing, to piloting, to scaling, to innovating? You should—it will save you a bunch of wasted effort.
Avoid costly ABM mistakes that hurt your reputation and your revenue:
Is your company preparing for ABM? Is your company piloting? Is your company scaling successful ABM? Is your company innovating?
Whichever you pick, over the next several weeks, Intelligent Demand's team of certified ABM experts are going to give you real world, pragmatic tips that will help you use an account based approach to improve revenue performance at your company. At the end, you will have the knowledge of a certified account based practitioner and the practical advice to lead your team to account based success.
Opt in to receive real world, expert practitioner level content tailored for exactly where your company is in its account based journey:
Now on-demand.
Watch our keynote from ABM Revealed (hosted by the ABM Leadership Alliance) to hear ID CEO John Common and Technology Strategy Director Eli Snyder break down the 7 Success Pillars and dive deeper into the account based tools that can help you successfully launch and scale an account based program.