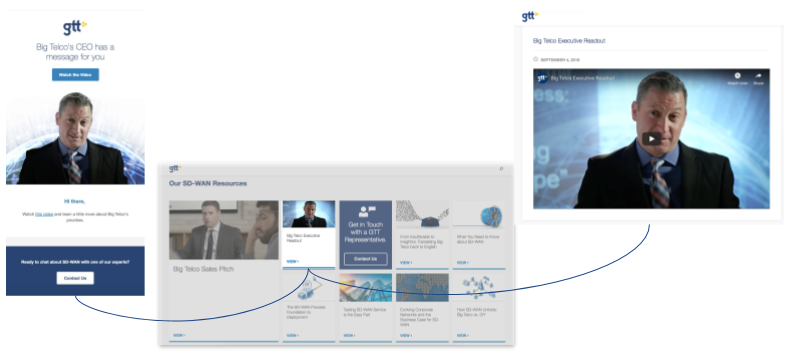 The Telecom Industry Landscape
At some point in the last five years, telecom companies all started to sound the same. And eventually, that morphed into telecom speaking a language that no one else spoke, a style of jargon-packed marketing fluff that annoyed and confused business leaders and completely frustrated engineers trying to source and operate a seamless global network.
GTT felt strongly that they were different from their competitors–both in the way they communicated and the way they delivered to their customers. Unfortunately, a sizable portion of their market didn't know this. They needed a campaign unlike any other in their company history to help them get their message out there, so they asked our team to help.
The Starting Line
GTT had a new breed of marketing leaders enter the organization. They had been growing by acquisition and hadn't done many integrated marketing or demand generation campaigns. They wanted to invest in organic growth and they wanted to lead with a new product offering: SD-WAN.
"When ID met GTT, they were looking for a partner that could execute complex demand gen, but there was also an appetite to be disruptive – to stand out from their competitors," said Theo Romeo, Creative Director, Intelligent Demand. "We collaborated with their VP of Marketing and Sr. Director of Portfolio Marketing on a few ideas for the SD-WAN campaign. Based on our experience within telecom, the team knew what SD-WAN was, so much of the focus went into learning how GTT did SD-WAN differently – this was really important to us."
The Idea
In order to align GTT's message with its audience in an engaging way, our team first decided to lump all GTT's competitors into one bucket and label it "Big Telco." We then created a series of digital shorts and engaging content that would live in a modern, user-guided content environment. These short videos followed our campaign concept, which we called "Big Telco Translation Service." Essentially, Big Telco talks in a language the audience can't understand, and GTT would be the people translating those messages in clear, concise language.
The Message
The message was nothing like what was happening in the market. The message happening in the market was essentially a bunch of content answering the question, "What is SD-WAN?". What we knew was that GTT's audience most likely has some experience working with 'Big Telco', would immediately recognize 'Big Telco', and has experienced a fair amount of frustration working with them. Couple that with the fact that many of them are in the later phase of their education phase of SD-WAN.
So, we completely sidestepped the 'What is SD-WAN' message and what we went after was 'Big Telco is letting you down'. They are not educating you well; we're sorry you have to suffer through this, and we're going to be the ones who talk clearly about what SD-WAN. We knew we had to talk about SD-WAN in a way that was different
We didn't attach GTT to SD-WAN with the message 'GTT's SD-WAN is the best', but rather "GTT can bring the network to life in a way that allows you to get the most out of SD-WAN that Big Telco won't." It was an approach that wasn't happening in the market and something that has continued to resonate with GTT's audience.
Creating the Content Experience
Now that GTT had agreed on the direction of the SD-WAN campaign, our team got in a room to do what we do – which is create an integrated campaign architecture. We all agreed that a content experience was the ideal content distribution tool to use because it puts much of the control in the hands of the leads themselves.
We thought it would be best to give them a self-guided mechanism to enter the content experience, see what was in there and go "yes, that's the information I need. I'm going to engage there."
"For GTT, we created a lot of new content and resources related to their SD-WAN product offering, and we wanted to house all of that in a place that was easy to binge and digest all in one place," said Caitlin Kelley, Technology Strategist at Intelligent Demand. "We chose Uberflip for the user experience and its integrations with Marketo. We are sending media to a gated Uberflip hub, where we are connecting new leads that are being inserted into Marketo."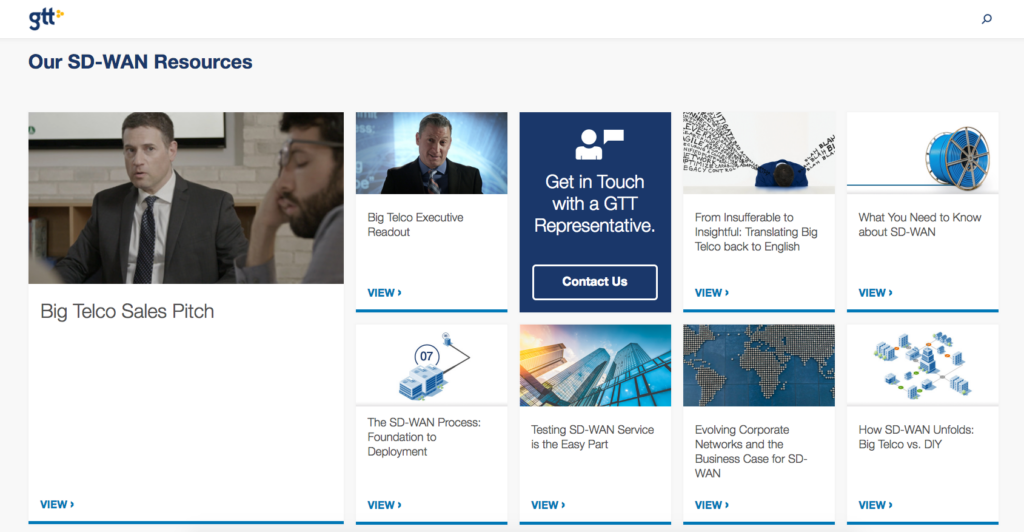 The Content Experience Strategy – Automation
With the decision made to use Uberflip as GTT's content experience platform, the next step in bringing the SD-WAN campaign strategy to life was creating an integrated campaign architecture that would connect the Uberflip hub with a sophisticated Marketo email nurture program.
To encourage engagement from active leads, our team designed a 10-touch email nurture and retargeting campaign that actively served leads with content they hadn't previously engaged with, which allowed GTT to create a better and more personalized user experience.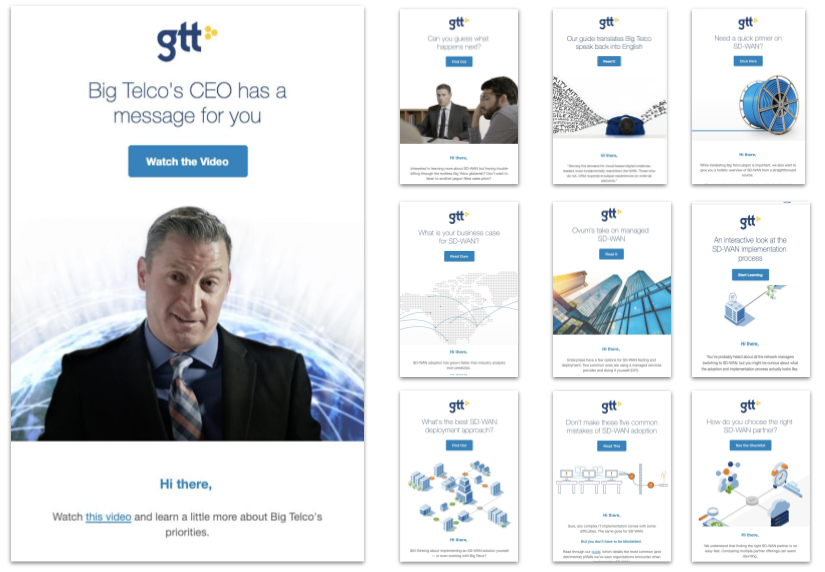 The Results
In its first several months in the market, GTT's Big Telco Translation Service campaign produced remarkable results. The overall campaign drove above-benchmark MQLs for GTT, with content engagement metrics indicating that the hub was a significant driver of prospect engagement.
Multiple content pieces demonstrate a higher than average 13%+ conversion rate on form fills for lead generation.
Content performance metrics provided clear strategic direction for further content development.
Valuable buy-in from GTT's executives.
"To start the year, GTT faced a tough task of developing a demand generation campaign that struck a fine balance between maintaining brand with conservative characteristics, yet establishing the company as a disruptor of industry behemoths, like AT&T and Verizon. This wasn't the only challenge GTT faced, however. We received a mandate from the CEO and Board to stand up a scalable, robust demand generation platform within 90 days despite no infrastructure or people (other than me) existing on day 1. I knew my one shot at success would hinge on using tried-and-true partner that could deliver quickly, work in an agile fashion, and offer a deep bench of professionals to cover all aspects of demand generation – from tech to creative to media. We needed it all, and Intelligent Demand and Uberflip came through in a big way."


– Gavin McKelvey, VP, Corporate Marketing at GTT
Talk to us about content experience.
Want to learn more about this customer success story or how the ID team can help with your account based strategy? Get in touch, we can help.
Read more from Intelligent Demand