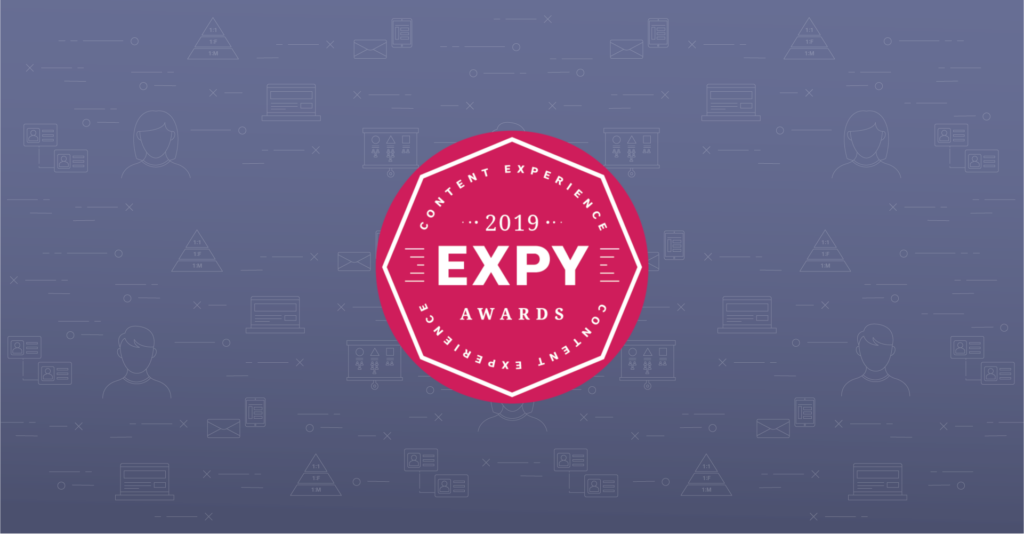 Best Marketing Campaign of the Year
The dust is settling on another summer, which also marks the end of my lengthy 2019 conference season. My last stop (for a while) was in Toronto at CONEX: The Content Experience. CONEX is a relatively new show – now just three years old – and the gang at Uberflip has done a remarkable job creating a bona fide, major league event that attracts the best marketers in North America and hosts two days of speakers who span the marketing and pop culture spectrum.
Last year, the Intelligent Demand team walked away with some pretty significant hardware, being named Uberflip's 2018 Service Partner of the Year. It meant a lot to us here at the agency because the relationships we forge with our partners are meaningful — not only to us, but to our clients as well.
This year, we had the opportunity to bring even more EXPY awards back to Colorado. The ID team was shortlisted for three separate awards, including Service Partner of the Year 2019. What made 2019's awards particularly exciting was that our work for GTT was nominated for two major marketing awards: Best ABM Program and Best Marketing Campaign.
So, what do you think happened?
GTT and ID took home the award for Marketing Campaign of the Year!
Why is that a big deal?
At a marketing awards show attended by the best B2B marketers in North America, recognition for our efforts to drive marketing-attributed revenue alongside our global telecom partner was particularly rewarding. We would have been thrilled to win any of the awards we were nominated for, but when the one you take home is directly related to the work you're doing in partnership with your clients, it's just that much sweeter. It means what we do here at ID is having an impact, not only for our clients, but an impact on the industry. Our collective hard work is being recognized as some of the smartest, most innovative, and most effective work being done worldwide – and we think that's pretty cool.
So, congratulations to the nominees, and congratulations to our partners at GTT. We are thrilled that you're along for this killer ride we call revenue growth and we're excited to see where 2020 finds us.
What does an award-winning marketing campaign look like?
If you're interested in learning more about our award-winning work for GTT, you can binge to your heart's content on our Case Studies page or go straight to the GTT case study below (grab it – it's un-gated).
Accelerate revenue with account based
At ID, we're working to deliver demonstrable revenue impact with some of the world's coolest marketers and brands. In addition to delivering tremendous content experiences, we're building an account based center of excellence. One way you can be sure to understand your readiness for account based revenue is to take our ABM Maturity Assessment. It's an in-depth realization of where your organization is today and begins to provide insight into what you need to do to move toward your desired state.