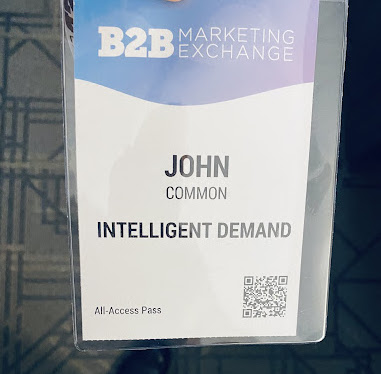 I haven't been attending many in-person events for the past two years. So I was pretty excited (and just a tiny bit hesitant) about going to the B2BMX conference in Scottsdale, AZ. But Andrew Gaffney and the crew at DemandGen Report always do a good job with the agenda, attendees, speakers, content, event location, and vibe. And frankly, I was super interested to see what "the next normal" might look like when it comes to events and conferences.
Short story: It was a great (and safe) show. Great speakers, great content. And it felt good to see so many familiar faces and connect in person again. Also, no surprise: our industry has NOT STOPPED innovating and learning over the last two years. (You knew that.) So there is lots to report.
On the plane ride back to Denver, I opened a notebook, stepped back and tried to capture the through-lines that kept arising for me across all of the presentations, research, case studies, and conversations with practitioners, analysts and vendors.
I identified 8 key takeaways that, interestingly, are all related. They all ladder up to something I'm seeing across the industry right now: smart companies are crafting more effective, end-to-end go to market motions.
8 big takeaways from B2BMX 2022
#1 We're ready to connect in person again! But get ready: it's exhausting.
This was clearly many people's first conference since the pandemic began. Everyone admitted that their social/networking muscles were atrophied. My favorite comment was when someone I was talking with admitted that "business extroverting is exhausting. It's different than extroverting in your personal life." Which leads to another observation: I saw people being more vulnerable, honest, kind, and human with each other. LET'S KEEP THIS UP, EVERYONE!
#2 Integration is THE KEY.
Nearly every case study, research report, and presenter spoke to the fact that real integration drives better results and better CX. Integrating your cross-functional efforts* into strategic motions that target the right audience with the right experience with the right levels of personalization WORKS BEST.
Guess what: it turns out doing this is difficult because it requires deep thinking followed by LOTS of dot connecting. But it is incredibly worth it. Simply put: integration is the antidote to inefficient, ineffective, wasteful activity.
*cross-functional efforts = things like audience targeting, messaging, creative, paid media, content, digital experiences, organic social, events, human outreach, offers, calls to action, martech, adtech, salestech, workflows, reporting, analytics
#3 Alignment is no longer optional.
You've no doubt heard the phrase "revenue is a team sport." It's actually true. In fact, it's become clear that stakeholder alignment is no longer optional — it's a requirement. Marketing, SDRs/BDRs, Sales and increasingly, Customer Success, are realizing just how much they need each other to succeed.
Finally. And now, they're doing the hard work to operate according to that truth. Marketing should lead the way here. (At ID, we call this kind of alignment and orchestration acting like One Revenue Team™.)
Listen: if your revenue stakeholders aren't operating as if alignment is critical, then they are essentially saying they want to miss their growth targets, waste time, waste money, and slow down their careers.
Yep. It's that important.
#4 ABM is ABX now. But it always was.
It's time to stop saying "ABM." It was never the correct term. Why? Because treating your account based program as a "marketing thing" is one of the best ways to make it underperform. But alas, the term "ABM" caught on and… bad habits can be hard to break. So it's good to see the industry working to remedy that rather large error by moving to Account Based Experience, or ABX.
ABX takes everything you already know about ABM but broadens and deepens it in some important ways:
ABX is about creating engaging, compelling, targeted, highly-converting, connected customer experiences across the end-to-end customer journey and revenue process: awareness, acquisition, retention, expansion
ABX is highly customer-focused, not company-focused, tactic-focused, or tech-focused. It's all about delivering relevant, correctly personalized value to the prospect/customer
ABX aligns and orchestrates the cross-functional One Revenue Team™ made up of marketing, SDRs, sales, customer success, product and executives
ABX takes its guidance directly and explicitly from your go-to-market strategy — it places its investments where your company has the highest chance to win and grow efficiently
#5 Go-To-Market is the new black. But for a good reason.
Go-To-Market is in the air. You see the phrase being used (and sometimes misused) everywhere. GTM is the new black. Why? Because seasoned growth practitioners, analysts, and experienced revenue executives all realize that if they want to drive revenue growth in a more efficient, effective and scalable way, they're going to have to uplevel how they go to market.
I can attest to this. If you do revenue growth work long enough, you quickly realize that all roads lead to GTM, ultimately. That's why we baked go-to-market into Intelligent Demand's Revenue Growth Framework (see the graphic below — it's the master framework we use to grow our clients' revenue). GTM is the critical "guidance and alignment layer" between a company's growth goals, and the integrated experiences they deliver that drives awareness, acquisition, retention and expansion.
Most companies I know and work with aren't suffering from a lack of software, content, paid media, or hard work and activity being produced by their marketing, sales and customer success teams. They're suffering from mis-targeted, poorly executed, inefficient, unscalable, difficult-to-measure integrated experiences. And the way you SOLVE THAT is to uplevel your GTM.
By getting aligned about your GTM, you activate that strategy for WHERE YOU WIN BEST across your end-to-end growth program and revenue stakeholders. GTM can and should be a unifying, focusing force for aligned effort and investment to drive growth. Reach out to us if you want to talk more about how to get GTM right at your company. I genuinely believe this is one of the holy grails of unlocking better growth.
#6 Intent data is crossing the chasm.
Over the past decade, I've learned to be cautiously optimistic when the vendor-fueled megahorn of "alleged best practice" goes full blast on a topic. Sometimes, the claims are aspirational and ultimately, disappointing. Sometimes, the claims are directionally correct, but not ready for prime time. Sometimes, the claims are very valuable, but not for your use case. And sometimes, the claims are truly ready for serious consideration and wider adoption.
Intent data is crossing the chasm. It's real and valuable. But don't get drunk on the hype. If you think intent data is a magic bullet that lets you read your prospects' and customers' minds with great precision, you're going to be disappointed. However, if you are ready to add intent data as a powerful, additional input that helps you target and focus your marketing, sales and customer success efforts where they have a HIGHER LIKELIHOOD OF SUCCESS, then game on.
There are lots of vendors with lots of confusingly similar claims. But you should be testing and proving intent data within your program—assuming you have at least moderate levels of maturity within your go to market strategy and growth program.
#7 Demand Gen and Account Based are converging — faster.
I attended a really great presentation by Bob Peterson, VP Research, Forrester about how demand generation and account based strategies are converging, borrowing and blending into what we always knew was true: run your demand program as a continuum that supports varying degrees of targeting, personalization, collaboration, and investment per account.
Instead of running your Demand Gen and ABM programs in silos, think of this demand creation continuum as a kind of "slider" that you use to create the right integrated experiences that achieve a given growth goal, guided by your go-to-market strategy (from above) and powered by unified tactical services and revenue operations (from below).

The Forrester research shows just how much this trend is accelerating. More and more companies are using a blend of 1:Many, 1:Few, 1:One and yes, 1:TAM approaches as they translate their growth goals into smart, integrated, aligned go-to-market motions. We've always seen it this way at ID.  In fact this is how we approach brand + demand + sales across the end-to-end revenue process: 
Here is a helpful on-demand webinar on this topic where Chris Moody (of Topo/Gartner) and I talked about how Demand Gen and Account Based approaches are borrowing and blending from each other.
#8 Revenue Operations is the big enabler.
Let's be honest: modern go to market motions are complex. As outlined above, they require more cross functional alignment, better orchestration, stronger digital and omni-channel capabilities, and more transparent reporting, analytics and attribution.
Phew. That's a lot. And that's why RevOps is quickly being adopted as a critical, enabling strategy by growth leaders. I like this definition:
RevOps is the alignment of marketing, sales, and customer success operations across the full customer life cycle to drive growth through operational efficiency. RevOps is a holistic approach that breaks down silos between the client-facing departments by keeping all teams accountable to revenue, freeing up departments to focus on the customer.
At ID, we help our clients move toward Revenue Operations strategies by integrating MarTech, AdTech, SalesTech, data, cross-functional workflows, reporting, analytics — in support of the integrated, cross-functional campaigns we create together. RevOps was a key topic and recommendation in this webinar that Craig Rosenberg (from Gartner/TOPO) I did recently about Go-To-Market execution success. We shared very candid advice — specifically for CMOs, CROs and revenue executives who are on the hook to drive growth.
——
OK. Those are my 8 big takeaways from B2BMX. If you were at the conference, which ones did I miss? What trends and themes are you seeing, more broadly across the industry these days?
Where is your company in its journey in adopting and putting these key themes to work to drive smarter growth?