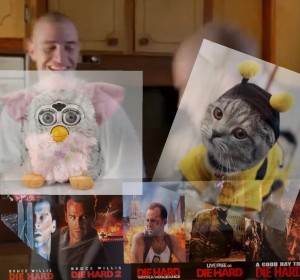 For marketers that are synergizing and "revenuing" their demand pipes, the MarTech stack is a sales funnel of customer insights.
Historically, when sales leaders optimize their channel strategy, they routinely approach their pain points in a pragmatic, agile way. But the days are numbered of simply blindfolding monkeys and having them throw darts at Gartner's newest magic quadrant of social listening platforms.
I'm just like you. Here's a pop-culture reference to prove it. Remember that scene in Gummo when the two identical twins punch each other in the kitchen? That's what you're doing everyday when you fail to audit your agility, specifically in the areas of omnichannel management and content meta data.
I used to write for an alternative weekly paper, so here's an apt non sequitur.
Content Marketing ROI – what we came here for
Starting numbered lists without properly setting them up
There's so much marketers can learn if they just watch all the Die Hard movies in reverse. And here's where I'm going to get philosophical, and why not? Most of us went to school to change the world, and we sometimes fool ourselves into thinking we can by putting innocent online shoppers into drip campaigns that ask for personal information.
Here's some intriguing metrics on content marketing:
According to the guy who was asleep at the bus stop this morning, 99% of content marketers think ice cream doesn't contain eggs.
Two thirds of all salespeople think MQLs are performance-enhancing drugs that janitors smuggle into the building using hollowed-out Furbies.
At least half of the prospects in your best-performing campaign are actually kittens made of bees, which proves that the bees aren't dying—they're flying in "kitten formation" and pretending to be in the decision stage of their customer journey.
If you've learned anything today, I'd be shocked. Happy April Fool's.