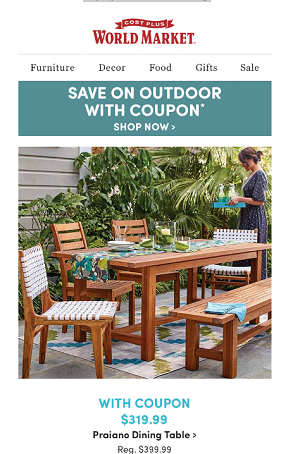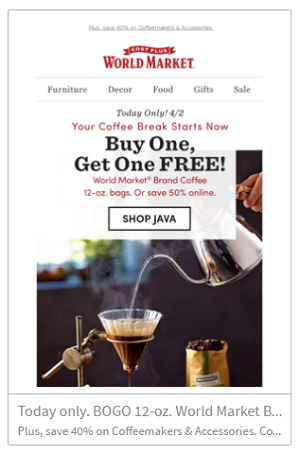 Here's a dirty little secret. When I'm stressed out (like stomach burning, hostage-taking, crying and laughing at the same time stressed out) the only thing that really calms me down is slowly browsing ceramics at World Market. Forget tai chi, therapy or tequila, there's something about studying a panda-themed chopstick holder that makes things come back to center. I also get a jump of excitement every time a World Market email populates my inbox. As a marketer, I decided to take a step back and see what, exactly, made these promotional emails so satisfying (beyond just my lust for Moroccan olive oil decanters). Why is this nurture program so engaging, and what lessons can B2B marketers take from World Market's Email Elves?
Make Your Creative Live and Breathe
Playful headers, brand consistency across wildly different collections, aspirational imagery. The in-house designers at this place have that email template dialed. Given the frequent send pace it's impressive how editorial these pieces feel, when they could easily devolve into hastily smushed-together product shots.The images allow you to project yourself into the scene and almost feel the Dominican Hammock's hemp threads against the back of your legs while you sip a Rum Punch. Forget your scrappy yard littered with broken toys. You could have this sleek outdoor living room and laugh with your attractive friends while sipping artisanal cocktails. Just buy one throw pillow, they're so rich with texture. BOOM, you wake up entering credit card information for a set of Italian Villa string lights when you don't have outdoor electricity. Lifestyle projection is some powerful shit.
B2B Takeaway:
The hero image on your email template isn't a box to fill with the least offensive iStock photo. "White Girl Laughing While Typing" may not offend anyone, but it won't sell anyone either. Obviously, consumer lifestyle brands have it easier in this regard, but B2B brands shouldn't hide their personalities behind generic stock photos. Create a custom photograph library to use across creative assets that illustrates your brand's story. Or at the very least, use Vince Vaughn stock photos.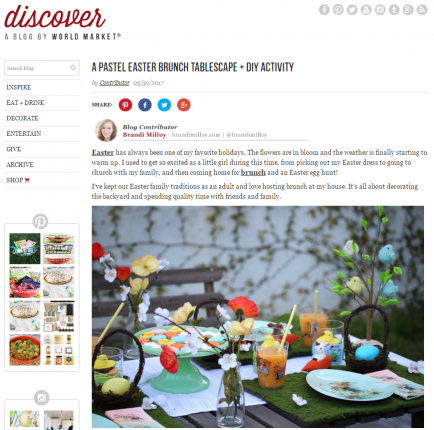 Cross-Promote with Successful Bloggers
World Market frequently partners with lifestyle bloggers for cross-platform content creation. The process probably looks something like this: they reach out to bloggers who align with the brand and have significant audiences. The blogger receives product and payment in exchange for creating content that highlights product use in real life. The content is promoted across World Market's channels, and the blogger's digital properties. The result? Valuable product-focused content, promoted to new audiences, with the positive halo of the popular digital personality. Check out TV personality and culinary blogger Brandi Milloy's piece on Easter Brunch to see how it comes together.
B2B Takeaway:
Not every piece of content you distribute must be created by your internal team. In fact, you can gain significant credibility by having guest contributors discuss your product. Say two catering companies are competing for your ongoing business. One sends an email with the subject, "New Recipes Released". The other sends "Giada De Laurentiis Tries Our New Recipes: See What She Thinks!" Which email would you open, and which would you trash?
Identify thought leaders in your industry and pitch potential collaborations. If you'd like to scale this process and develop an entire influencer marketing campaign, consider a platform designed for connecting content developers with brands, such as Influence Inspired.
Optimize Based on Analytics Insights
From the customer experience side, I don't notice minor changes in World Market's send frequency or subject line length. But the overall effect of minor changes is that I continuously enjoy the experience and don't unsubscribe. Looking at 2015-2017 data from MailCharts, it's easy to see the optimizations World Market has made in the last two years. We can assume these changes were in line with overall marketing strategies such as increasing editorial content over promotions, and adjustments based on analytics insights.
The ratio of Sales Promotions to General Sales emails changed dramatically between those two years. The increase in number of General Sales emails indicates more emails with editorial content, in line with content marketing best practices. Guess what? When you give people fun, engaging pieces they spend longer reading your emails. The average reading time went from 1:26 to 1:35.
B2B Takeaway:
If your email program stays the same over a two-year period you're doing it wrong. Here are some other adjustments the World Market program made between 2015 and 2017, and lessons we can take from them:
Average sends went from 23 to 29 a month. They likely tested send frequency and saw increasing the number of emails didn't increase the number of unsubscribes. This only works if you can maintain content quality with increased frequency.
Email sends on Fridays went from 4% to 7% of total. Keeping a close on eye on open rates by day and time allows you to optimize based on behavior. While the highest open rates were consistently Mondays between 4 a.m. and 8 a.m., the marketing team adjusted other days and times to increase open rates across the board.
The number of mobile-optimized emails increased. Sweet Zeus, God of Thunder, mobile optimization practices better increase every year or you're going to get crushed in a mobile-first world.
They stopped using emojis in subject lines. This was a fun trend to try out, but if they stopped it's likely because it caused technical issues or reduced open rates instead of increasing them. Always be willing to try a new tactic, and always be ready to bail if the trend eclipses the message or the numbers tell you it's not working.
Bottom line, what does it cost to produce an email program that's this on-point and engaging? According to a 2014 Slideshare presentation, World Market spent $224,000 a month on all digital marketing efforts, with an additional $42,000/month in AdWords spend. Doing it right isn't cheap. But you would have to dangle me over a boiling lava pit to get an honest tally of how much money I spent at World Market in the past year.
If you want to talk about revitalizing your current B2B or B2C email program with some of these pointers, we're always available; contact us here, on Twitter at @intelligentdem, or after hours in the Chinese tea cup section.