David Sirota: Back Story
I met David Sirota last year when I was a guest on his radio show on AM760 (produced by Clear Channel out of Denver, Colorado). We quickly became friends through our mutual fascination with music, politics, culture and media. Over a beer one night, he mentioned that he was about to release his third book, Back to Our Future: How the 1980s Explain the World We Live In Now, and asked if we could help him do a better job with his marketing.
Even though Intelligent Demand is mostly focused on working with B2B clients, we're happy to bend this rule when we meet a prospective B2C client who we know would really benefit from our help. So I said "You bet."
First Step: A Little Discovery
We started by doing our homework. This included several in-depth conversations with David about his goals for the upcoming book, researching the marketing approach of 10 or so of David's peers who do similar things, and of course, an evaluation of his current revenue engine (his marketing and sales platform).
What We Saw
David's old website wasn't doing him any favors. It threw all of the information on a single page — forcing the visitor to go hunt for something interesting by scrolling down-down-down. His site was filled with lots of great content, but it was nearly impossible to navigate. This made it difficult to discover, enjoy and share David's articles, radio shows, upcoming events and latest news.
The website also didn't properly convey who David really is as a person (his personality) or the fact that he's involved in so many different-but-related endeavors: author, columnist, radio show, television, live events, etc. His website also needed to do a better job of guiding and inviting visitors to opt-in to his key Calls-to-Action:
Subscribe to his weekly newsletter,
Discover and purchase his new book (and former books)
Cross pollinate his various audiences
The identity/brand needed work too. The image he was portraying didn't match the guy that I know: wickedly smart, provocative, genuine, funny and occasionally goofy. Finally, his online strategy could best be summed up as "Throw a bunch of stuff out there and hope that something sticks." Lots of unintegrated activity.
All that said, David was also doing many things right. He was regularly creating compelling, amazing content (he's a brilliant writer, after all). Plus he has a fantastic awareness platform as a syndicated columnist, radio host, MSNBC (and other networks too) contributor, and author. He also had a healthy email list with thousands of subscribers and a strong and growing social media presence.
How Intelligent Demand Helped
It was obvious that David would benefit quite a lot from upgrading his brand; improving and integrating his online strategy; investing in a better designed website (improved user experience, conversion focus, better layout, etc); and improving his email marketing.
Here's what we did together with David:
Growth Strategy Objectives – Confirmed a tight set of objectives for his entire marketing and sales platform to support both the launch of his new book and his ongoing awareness and conversion efforts.
Brand development – Developed a focused, updated look and feel for his brand and identity. This not only included new photos, logo design and color palette for his website, email and social media efforts. But on a deeper level, it included a more concise understanding (and telling) of David's story — who he is, what he stands for, what he loves, how he fits into politics, culture and media. Being clear about this story guides and influences everything else in his marketing platform: overall design, campaign flow, technology configuration and of course, content.
Revenue Engine Design – We made sure that David's new website was the online hub of his revenue engine. Meaning, all of his various awareness and marketing efforts connect back to his website where visitors can discover the full "David Sirota story" and be given the clear opportunity to convert on his primary Calls-to-Action.
Website Design and Development – Following the guidance from #'s 1, 2 and 3 above, our website design and development team created, tested and launched a new website with a completely upgraded look and feel. The website delivers a strong, branded impact but is still highly navigable, easy to understand, and easy to use. The site also has omnipresent social sharing features to accelerate peer-to-peer sharing of David's content, stories, columns, books, radio shows and videos.
Email Marketing – We identified, configured and implemented a new email marketing system for David that included custom, branded templates, autoresponders, subscription pages, communication preference management as well as consulting and guidance around permission marketing, deliverability and ongoing messaging strategy.
Training – We made sure David was fully trained on his new email marketing system and website CMS. And we're always available to him moving forward as well.
Ongoing Metrics and Optimization – We stay in touch with David for questions and ideas as needed, and also to help him interpret and react to the metrics he's getting from his web analytics, email reports, social media statistics and other data sources. Together, we'll analyze his performance data and continue to improve his results incrementally. That is key!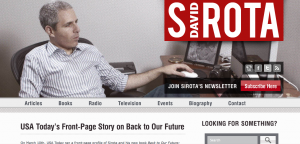 Check out David's new website: davidsirota.com. Subscribe to his email list and check out his new book while you're there!
And of course, if parts or all of this project seem like what YOU need, contact us today.