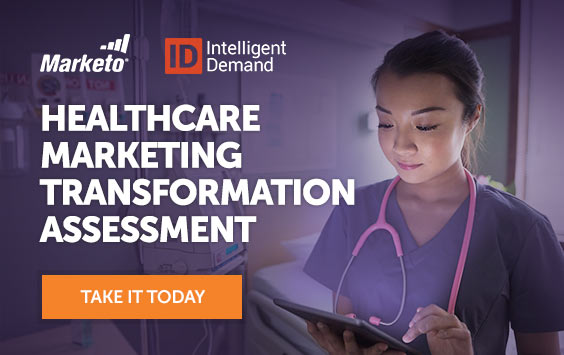 In healthcare, extraordinary technology and innovative strategies exist side-by-side with last century's tools, systems, and out-of-date status quo. This old world / new world dichotomy makes healthcare operations difficult and confusing. And it's the same with healthcare marketing.
The promise and payoff of modern marketing often seems out of reach to healthcare marketers. It's easy to buy software, but it's difficult to transform. How do you navigate the regulatory waters? How do you overcome your legacy systems and processes? How do you convey value propositions that are deeper than ROI? How do you maintain relationships throughout years-long healthcare buying cycles? How do you implement and scale an integrated program?
Intelligent Demand works with healthcare marketers to help them answer these questions, and become drivers of their organization's revenue and customer experience in the process. We've work side by side with payers, providers, healthcare IT, wellness platforms, fitness, medical device manufacturers, and clinical service providers to grow awareness, engagement, pipeline and revenue. And through that experience, one thing is clear: every healthcare marketing team feels overwhelmed to some degree.
Recent research from SiriusDecisions confirms this. Healthcare marketers are struggling with the following key issues:
Legacy marketing roles are being stretched by new business models
Healthcare marketers often work in silos within highly matrixed, complex organizations
Healthcare marketers need to dramatically up their game in order to be relevant and strategic partners within their organizations
Healthcare marketing needs to transform. It's that simple. And successful transformation begins by making an accurate, dispassionate diagnosis.
Enter Intelligent Demand's Revenue Transformation Assessment for Healthcare Marketers, sponsored by Marketo.
It's is a free, interactive resource that helps you honestly evaluate the strengths and weaknesses of your healthcare marketing function. The assessment addresses all twelve capabilities that any high-functioning marketing team needs:
1. Brand and Value Proposition
What do you stand for? What makes you unique in your space? Your brand and value proposition help define your organization and stick out from your competitors in a crowded market.
2. Goals and Metrics
What business objectives are your marketing programs driving toward? Knowing what success looks like, and how to measure it will determine what path you take to get there.
3. Target Audience Definition
Do you know the profile of your best customers at the segment, account, and persona levels? Do you know their customer journeys? Understanding what makes your best customers the best will help you reach out to and find more customers like them.
4. Messaging and Content
Is your messaging and content engaging and converting? You can churn out content all day, but it won't be engaging if the messaging isn't compelling, personalized, and relevant in your target audience's eyes.
5. Marketing Program Strategy
Connecting the dots that support your end-to-end revenue process of your marketing in a strategic way makes for a better oiled, more efficient revenue machine than random acts of sporadic marketing.
6. Lead Management
Capturing, tracking, scoring, monitoring, reacting to and progressing leads and accounts are important steps to making sure each lead gets taken care of by the right stakeholders at the right time.
7. Marketing and Sales Technology
The number of sales and marketing tech solutions is mind boggling. Implementing and integrating your marketing and sales technology (like marketing automation, CRM, website, analytics, testing, interactive content, predictive, adtech, and ABM technology – just to name a few!) can seem like a lot of work, but it's imperative to driving demonstrable ROI.
8. Data
Stale and incomplete data can run an otherwise efficient, smooth marketing program right off its tracks. Even just getting started on cleaning up your data – making it current, non-duplicative, and integrated – can make a huge difference.
9. Media and Channels
Engaging your target audience in the right channel at the right cost – across paid, earned, and owned can be the difference in your lead generation and nurturing programs sinking or swimming.
10. Stakeholder Alignment
Collaboration between your revenue stakeholders is key – how effectively your product, brand, demand, sales, and customer success teams are aligned is a fundamental part of driving revenue at any organization.
11. Reporting and Analytics
Are you measuring activity or impact? If your budget went up 20% where would you invest it and why? If your budget went down 20% where would you reduce it and why? Regularly reporting on your programs and how they're performing allows you to optimize and improve – tying your results to revenue impact makes your reporting even more powerful.
12. People
Having the right people with the right knowledge on your team can make a world of difference in achieving your revenue goals. Making sure you manage the many resources, skills, capabilities, and experience needed to fully deliver on your marketing programs can be a challenge – having the right agency partners to fill any gaps can help
The assessment takes less than seven minutes — and the value you get in exchange is immense. Not only do you receive insights into where your healthcare marketing organization is in the transformation journey – your strengths, as well as your gaps – you also get practical next step recommendations for how you can take your program to the next level. These recommendations can help you understand, in detail, not only where you're at, but also where you're going – and help you get there.
 "In this new digital era, healthcare companies that build end-to-end engagement strategies with patients, physicians, and other stakeholders will win.  Any healthcare organization who is committed to embarking on a digital transformation journey, must take the Marketo, Intelligent Demand assessment," says Teresa Fok, Segment Marketing Manager, Healthcare, Marketo.

Steve Krizman is an executive consultant at Intelligent Demand who helps our healthcare clients and our account teams turn market insights into executable strategies and results. Prior to coming to Intelligent Demand, Steve led marketing and communications at Kaiser Permanente for their Colorado Region.
Here is Steve's take on the assessment: "It may seem that you're hopelessly behind the curve, and there is no clear next step. But I have seen that a methodical assessment leads to a clear sequence of action and faster results. Technology is obviously a critical component. But it's almost always about the connective tissue — the strategy and the integration of people and processes. This assessment tool will help you zero in on a holistic plan of attack."
Ready to take the assessment and start transforming your revenue? Click here. 
If you like it, share it with your team — your manager, your teammates, your employees. Seeing how different people score the same healthcare marketing organization can be truly revealing, and that insight can give you a wider perspective on where you're at in your marketing journey.
Reach out if you'd like to discuss your assessment results and recommendations. Expert consultants from both Marketo and Intelligent Demand are here to help you take your marketing program to help you achieve business goals that currently seem out of reach to the next level of maturity and results. Click here to schedule a free consult or to chat about your results.