Our CEO, John Common, was a panelist at a Marketo Summit roundtable where the discussion focused on the transformation, implementation, integration, and managed services for marketing automation services, and how digital service providers can provide a critical piece of the digital marketing puzzle by becoming trusted advisors. Here are a few of the questions he was asked—and how he answered.
What are you hearing from CMOs and CIOs? Are they working together?
JOHN: I see CMOs beginning to see the enormous opportunity they have in front of them to directly impact and even lead business impact within their company. But I think they're overwhelmed too. This is totally understandable though, given how the field of modern marketing is in such a state of constant, rapid evolution and disruption. Expectations of marketing and the CMO have never been higher.
I see many marketing organizations struggling with the basics of implementing a truly integrated, multi-channel, measurable system that delivers a coherent, relevant, value-adding customer experience. That's the external challenge. That customer-facing challenge brings internal challenges related organizational alignment and change management — specifically with marketing's partners in sales, IT, and the executive team.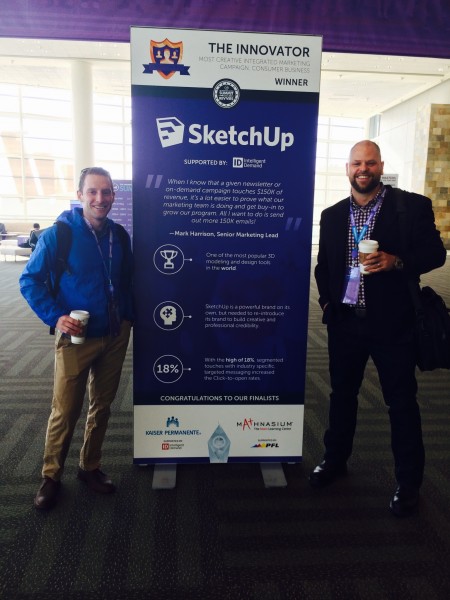 Depending on the company, I've seen CIOs (and their teams) be anywhere from very collaborative and aligned with marketing, to fairly absent from the conversation and silo-ed. I saw some Gartner research recently that confirmed many CIOs are still primarily focused on overseeing the domain of technical operations… things like ERP, security, moving applications to the cloud, BI/analytics, networking, infrastructure and data centers, and BYOD, to name a few. But I think the CMO-CIO relationship is rapidly evolving toward more collaboration and alignment.
NOTE: There are different opinions about this topic, obviously. This article by Scott Vaughan of Integrate eschews CMO-CIO alignment in favor of a much more pragmatic approach. Meanwhile, Forrester views CMO-CIO alignment as essential.
What are the key trends and themes ID's customers are looking to focus on?
Our clients are focused on measurable revenue impact; technology implementation, integration and operations; multi-channel engagement; customer experience; scalability of content marketing; marketing and sales alignment; and knowledge/skills.
What types of services are your customers asking for?
Clients need integrated programs that deliver higher quality, more targeted leads and actionable opportunities for their sales teams; faster turnaround times for strategy, programs and campaigns; a more efficient and accountable use of their marketing technology and media budget/spend; more regular, easier-to-use-and-act-upon reporting and analytics; more efficient and effective content; and multi-channel customer engagement strategies, technologies, data and campaigns.
How do you establish the maturity of an organization including People, Process, and Technology?
ID is in the business of helping our clients transform the way they generate revenue. We have a framework that evaluates where our clients are in their transformation journey from what we call "Revenue 1.0" to "Revenue 2.0+". We evaluate our clients' maturity through the lens of our transformation methodology: strategy, messaging and content, technology and data, media and channels, reporting and analytics, process, and organizational alignment and change management (which includes people).
How do you work with your clients? What is the catalyst for moving from tactical to strategic?
We engage strategically from the start with an integrated, holistic discovery and strategy process. We thoroughly believe tactics must serve an integrated strategy.
What is an ideal engagement and tell us about some of the indicators of success that you look for in clients?
Some of the biggest indicators of client success we look for are:
Courage — to change, to commit over a period of time, to truly partner
The presence of at least one real change agent in marketing leadership, but preferably more (in marketing team, sales team, exec team)
The readiness to learn, which includes crawl-walk-run, and the agility to learn from imperfect results
A great product/service/solution with at least a few genuinely happy customers, demonstrable results, and a different/better user experience
A mission that we can believe in and be excited about
What is on the CMO wish list?
Most of the marketing executives I know are looking for a faster path to world-class, integrated marketing programs and measurable revenue performance. They want to drive business success at their company.

Look beyond the curve…what is the future of marketing technology?
I think the future of marketing technology is deep and wide, and new technologies are emerging every day. Some of the trends I am hoping to see emerge are:
Less reliance on explicit opt-in (by leveraging big data, predictive, look alike, and multi-channel approaches)
More integration and bundling among features, applications, and technologies (likely powered by more acquisitions)
Continued disruption and innovation from emerging technologies
More reliance on predictive and machine learning powered by big data
More reliance on emotional opt-in and engagement
More out-of-the-box / quick-start functionality
Are there areas in which CMOs wished you supported them better?
We're always working on ways to expand in the areas of speed/cycle time without jeopardizing results, integrated multi-channel engagement, and easier-to-use and more convenient reporting and analytics.
What are your thoughts about Managed Service Offering?
It all depends on what the needs (including time to value), opportunity, budget, and use case of a particular client is. We work flexibly with our clients, often moving them from a service model where ID does most of the heavy lifting to a model where the client incrementally lifts more over time as their capabilities evolve.
How to engage to ensure an engaging RFP for success with a digital agency and their technology partners
ID normally opts out of most RFPs, honestly. We think bake-offs aren't the best way to choose a transformation partner. Also, most RFPs tend to be an expensive drag that can de-focus us from working most effectively with our current clients.
That said, my advice for a good RFP is to focus on:
What your goals are.
How you will measure success.
Getting real and honest about in-house capabilities and bandwidth vs those you need from a partner.
Setting realistic expectations — it's important for you as much as your potential new partner.
Trying to avoid the temptation to be too prescriptive — a good partner will bring new thinking and approaches to solving your problem.
Allowing your potential partner to do just that – bring new thinking and problem solving approaches.
Getting in a room and talking with them sooner than later – chemistry matters.
Obviously, your track record and happy customers matter.
Looking for the missing piece to your marketing automation and digital marketing service provider puzzle? Get in touch with Intelligent Demand, and we'll let you know about all the ways we can partner with you, and see if we're your perfect fit.