I met Will Smith twice yesterday.
The first time was at Marketo's Marketing Nation Summit keynote address. He walked out onto the stage in front of 5,000+ modern marketers and instead of saying "Hi, I'm Will Smith", he busted out a version of Gettin' Jiggy Wit It. Everyone out of their seats and on their feet: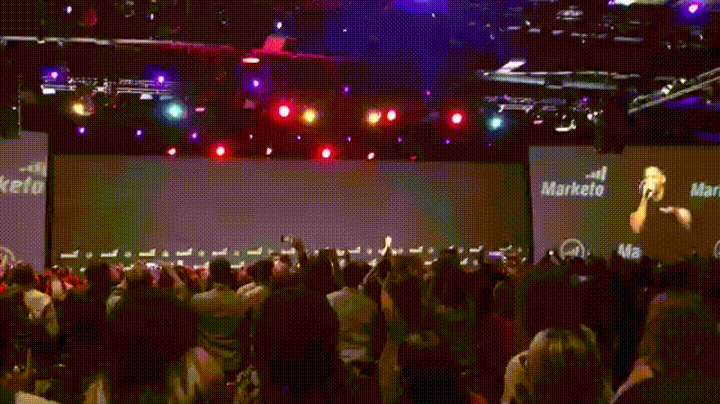 THAT definitely woke everyone up. Then he sat down with Marketo's CMO, Sanjay Dholakia for a fireside chat, sans fire.
Let's be honest: whenever technology conferences bring in someone who is famous and non-technical to speak, it can be a crap shoot. (#NotJamesFranco) But Will — can I call him Will? — proceeded to share some genuinely relevant and cogent perspectives about marketing, technology and business. Here are some excerpts: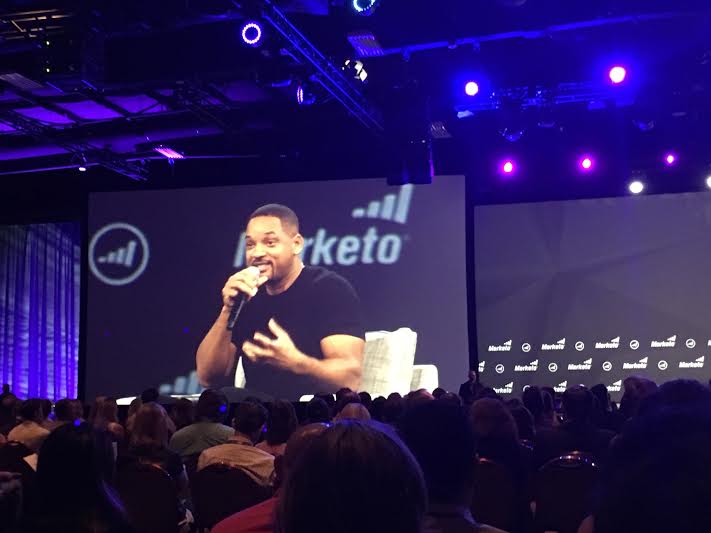 Will Smith on the topic of understanding your target audience: "Want to know your audience and get real insights? Go stand IN a situation with them and feel what they're feeling. Data is great, but go out there and see it yourself. Feel it yourself. I go to concerts with my kids now. Of course, I have to wear a wig so I don't get noticed."
On the topic of transparency: "Technology and social media has made a world where you can't cheat or fake it anymore. You can't make a bad movie, promote the heck out of it and then make millions before everyone realizes how bad it is. These days, people are Facebooking their friends about how awful the movie is 10 MINUTES INTO THE MOVIE."
On the topic of failure: "Wild Wild West was a bad movie… Comedy teaches you about failure. You have to keep throwing it out there. But I look at failure as the way I succeed. I literally tell myself this: fail early, fail often, fail forward."
On the topic of the IRS: "The IRS wants their money. They are not nice. They will take your stuff."
On the topic of authenticity: "I try not to go into situations thinking 'How can I make a lot of money or win an award.' I ask 'How can I help you get what you need? How can I help you be great?' And if that happens, if we are all doing that, we'll probably make a lot of money and win awards too. You have to be authentic. But if you just wanna sell shit… I dunno… just go shake it around and price it cheap. I see marketing as being about helping people to solve a real problem, to find out what people actually need, and then connecting them with something that actually helps them."
As we filed out of the keynote session, it was clear everyone really loved him as an entertainer and as a person. And people really connected with what he spoke about as well. The whole place was kind of buzzing about Will Smith "being in the building."
Great. Awesome. Back to real life.
I ran into a couple of meetings, went to a great session about Account-based Marketing, and then headed back to my hotel room to get some work done. Then I realized I had a quick window to get in a workout. So I changed and went down to the gym here at the MGM Grand.
I walked toward the treadmill and that was the second time I met Will Smith. He was there lifting weights with his personal trainer (and body guard?). It took a second of creepily glancing at him out of the corner of my eye before I realized, Yep. That's definitely Will Smith. Right there. (Note: Guess what he looks like in person? He looks just like Will Smith. Imagine that.)
Standing there on the treadmill, this thought literally went through my brain:
<pause for moment of personal dignity>
John,
You are a fairly serious person… immune to the shallow baubles and fake veneers of celebrity.
And you've been lucky enough to meet well-known people before.
You are not a giggly teenager for God's sake.
</pause for moment of personal dignity>
Then I immediately proceeded to walk over to him with a ridiculous grin on my face. I reached out to shake his hand, and mumbled something utterly original like "Hey… Hi.. Wow… I loved hearing you speak… you were umm… really great… I LOVE WHAT YOU DO."
Yeh. Nailed it.
He was incredibly gracious. I calmed down. I asked him if he'd ever talked in front of 5,000 marketing geeks before. We chatted about his point about authenticity — and marketing as a mechanism of real value and service, not bullshit. He told me one of the ways he decides if he wants to do a movie is by putting on his "marketing brain" and asking himself — who would pay for this movie, and why? How would I promote it and how would I feel doing that?
Then, I realized both of us were supposed to be working out. So I said thanks again and walked back to my treadmill WITHOUT GETTING A PICTURE OF ME AND WILL SMITH.
Critical mistake.
Why didn't I ask for a picture with him? Honest answer: Pride. I thought to myself: "You just chatted with Will Smith about marketing and other deep/real topics. YOU CAN NOT revert back into a fanboy. No way. You're better than that."
Wrong.
I ran on the treadmill for another 15 minutes until I saw him leaving. And all I could think was Jess (my wife) will FREAK OUT if I send her a picture of me and Will Smith. I have to do this.
So I swallowed my pride, hit pause on the treadmill, caught him by the door and said. "Will, I'm really sorry. But I just have to get a picture with you. My wife will love this. Would you mind?"
He was totally kind about it. And we took this photo. If I look really sweaty and starstruck, I was very much both: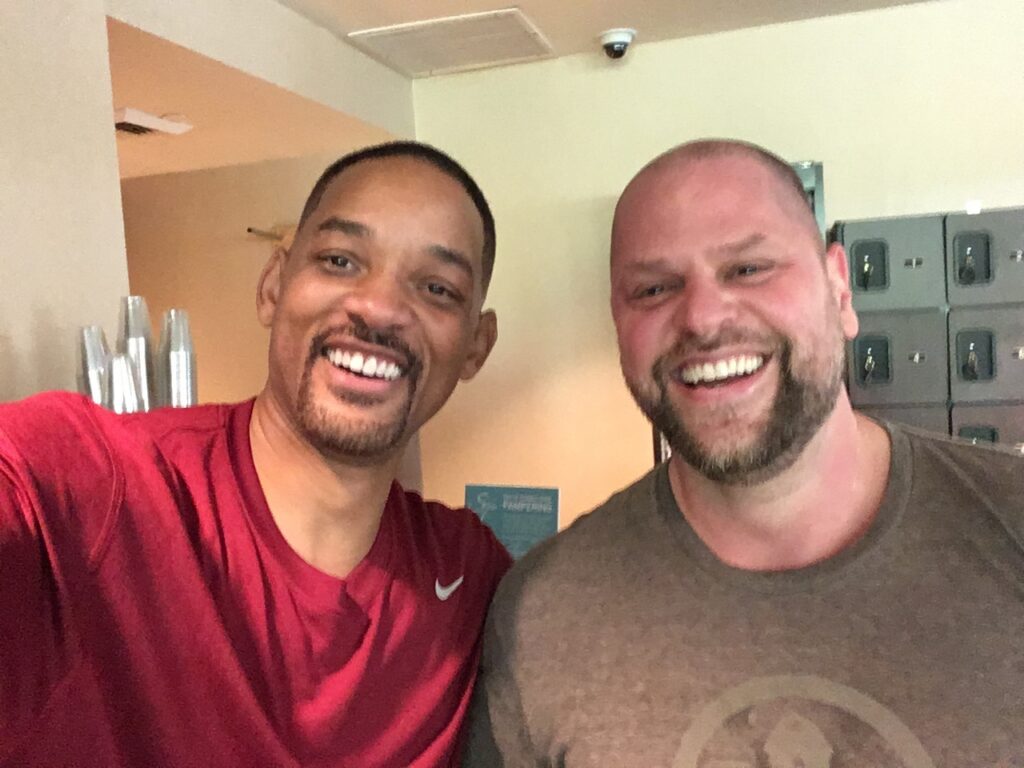 CONFESSIONS:
Did I put that photo on Facebook because I kind of couldn't believe it? Yep.
Did meeting Will Smith make my day? Yep.