Intelligent Demand is proud to announce that its client, SketchUp, was the recipient of the 2015 Marketo Revvie award in The Innovator, Consumer Business category at the Marketing Nation Summit on April 14th, 2015.   Each year, the Revvie Awards "recognize and celebrate Innovation in the Nation – customers and partners who are using Marketo to push the status quo and break away from the competition."  The Innovator award specifically rewarded the execution of a "killer creative campaign" that leveraged Marketo while utilizing third party tools to enhance the campaign.
SketchUp's story began with a dilemma—their Welcome Campaign was designed to convert trial users into paid users, but it didn't work properly and wasn't integrated with their eCommerce system, ElasticPath. Without the proper configurations in place, measuring the campaign's effectiveness simply wasn't an option at the time, and SketchUp had no idea which software sales they could attribute to their lead generation program versus its Welcome Campaign.
So they joined forces with Intelligent Demand in early 2013 to transition their existing Welcome Campaign to their new Marketo instance. Migrating the campaign to this new marketing automation platform was the first step toward enabling them to report on campaign performance and revenue impact in real-time. The next crucial step was to collect three months' worth of baseline metrics.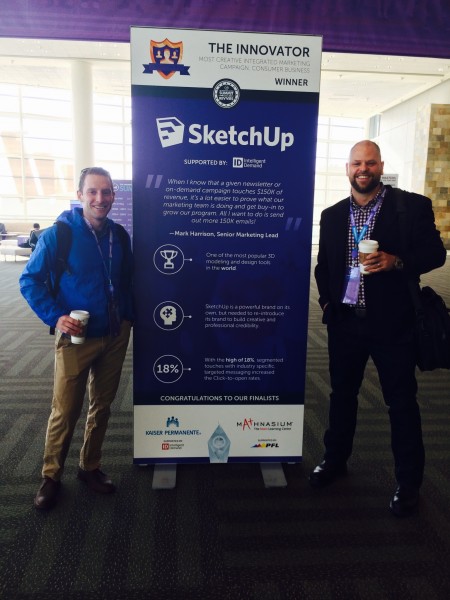 Then with Marketo and accurate campaign metrics in place, we began to optimize for conversion, which at that early stage simply meant a prospect clicking "Buy" and landing at the SketchUp store.
The campaign was running smoothly, but were visitors who clicked the "Buy" CTA actually converting into customers? In order to figure this out, the next move was to integrate Marketo with ElasticPath.
With the streamlined foundation that Marketo made possible, we strategically targeted a segment from SketchUp's database of leads and launched a new campaign— the September Promo—this time with reporting capabilities. And what did we see? Increased open rates, a robust CTR, 45x ROMI, and the most successful promotional campaign in SketchUp history.
As SketchUp moves into 2015, the metrics provided by Marketo, combined with key integrations and campaign successes, are giving us the ability to make informed and strategic campaign optimizations with a level of confidence that would not have been possible before.
Wondering how Intelligent Demand can help you grow your revenue? Reach out!  We're here to help!