3,784 marketing technology solutions on a single slide.
You read that right.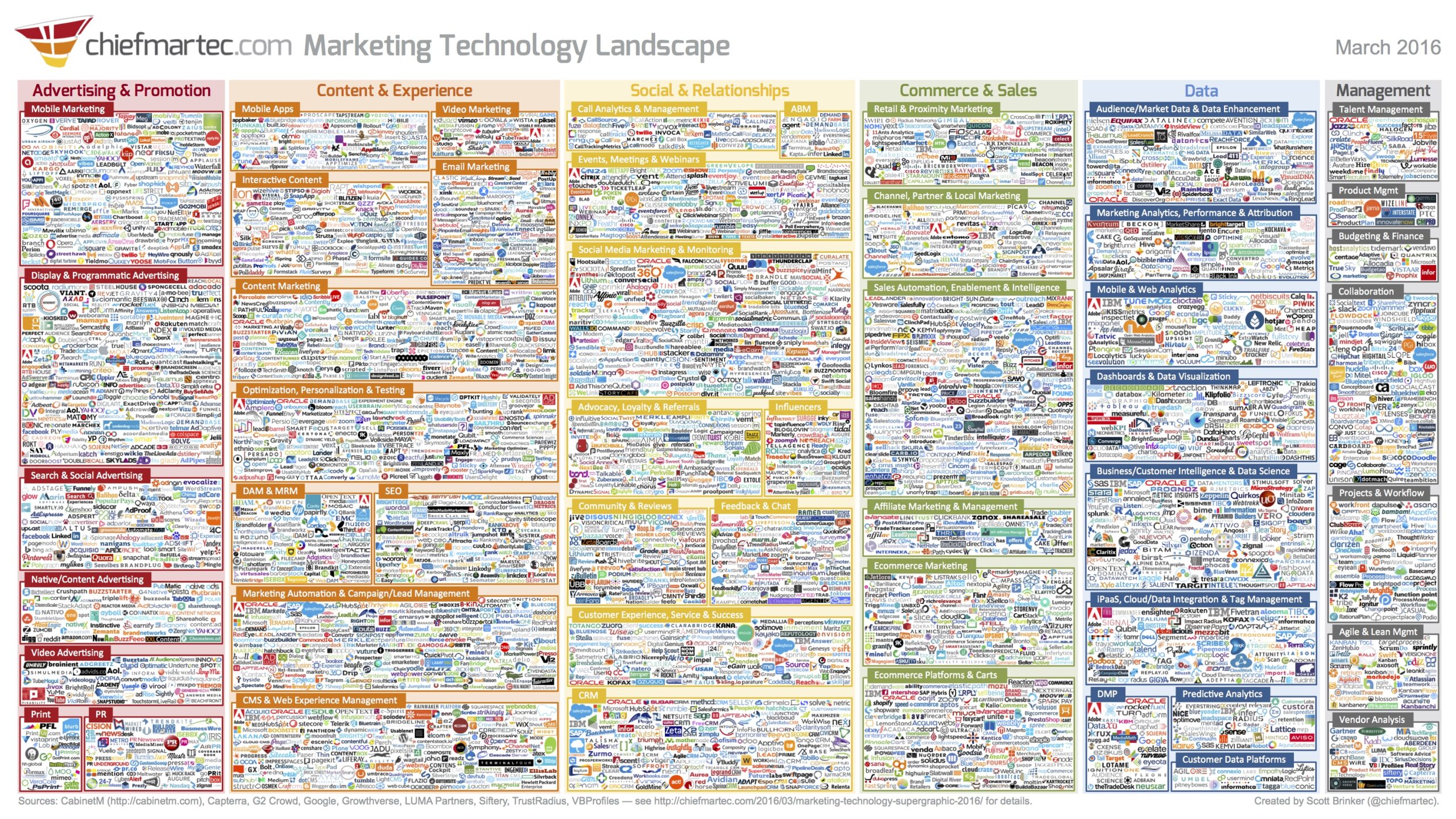 Scott Brinker's annual marketing technology landscape graphic grows larger and larger every year – to be expected in an industry where more and more solutions to company's marketing issues are being thought of every day. The sheer number of MarTech platforms, products and offerings in 2016 is staggering to think about, let alone look at all one on page.
But Lord help us, WE LOVE IT. 🙂
The time, research, and effort that goes into creating a graphic like this is truly amazing, and it is a useful tool that Intelligent Demand consistently references throughout the year. Kudos to Scott for putting in the absolutely massive amount of work that it must take to create and update this every year. Intelligent Demand is deeply entrenched in the ongoing trends of marketing technology, and was attending the MarTech USA conference in San Francisco when the latest update to this annual marketing technology graphic got released.
As Helen Graham, our Client Services Director pointed out that the rapid expansion in the marketing technology landscape is incredible, but likely part of a cycle: "It reminds me of when TV grew from three network channels to cable! A similar explosion is happening in the MarTech space. But it also reminds me of 1999 before the dot.com bust when everyone was involved in a start up. Then the market settled out and only the strong and truly viable survived. That will happen in this space, again. I am confident of that."
"Obviously this complexity presents an enormous challenge to our clients," said Eli Snyder, ID's Associate Director of Technology. "Which of these do we really need? Which will truly help us grow our revenue, and how? How can we plan to adopt the right technology at the right pace in the right order, and how do we integrate new technologies into our existing stack? With such a bewildering array of choices, technology adoption should be driven by a sound, integrated strategy that connects technology to the needs and opportunities unique to your business."
Need help figuring out how to evaluate, select, implement and integrate your own marketing technology stack? Reach out and schedule a conversation with one of our technology consultants. We'd love to help you connect your MarTech investment to real revenue impact!