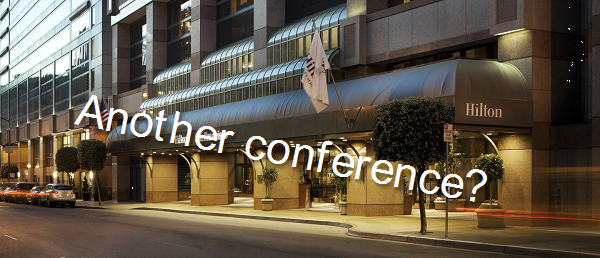 The San Francisco Hilton in Union Square has seen a lot of conferences over the years. And when I schlepped my bag into the lobby Monday morning, I couldn't shake a pervasive sense of deja vu. How many times have I stepped down into that hotel lobby and thought, "Time for another marketing technology conference"? Visions of Bill Murray's movie, Groundhog Day, launched in my brain.
"Ned Ryerson! BING!"
But my "Groundhog Day Loop" was immediately interrupted when I stepped inside. First, the Hilton wisely installed a new, well-stocked bar right in the center of the lobby. "Way to optimize, fellas. I'm already seeing improvement."
Most conferences I attend offer the following:
General sessions where predictions, pronouncements, and sage advice are confidently proclaimed
Genuine nuggets of innovation and emerging practices
A bunch of smart, driven people learning and networking together
Break-out sessions filled with case studies and more Powerpoint slides than you can shake a stick at
Vendors/exhibitors sponsoring happy hours, doling out water bottles, flash drives, other branded delights, and 30-second elevator speeches of wildly varying quality/relevance
More vendors/exhibitors…
Slow internet
Some conferences also throw in extras:
Big name keynote speakers who are mostly irrelevant but fun to watch (generals, entertainers, politicians, etc.)
"Galas" in fun locations that feel like "Prom for Marketers" (aircraft carrier decks, aquariums, music venues, street parties)
While MarTech skipped the extra trappings (good call, in my opinion), they offered everything on the first list in spades. It was a very busy and worthwhile two days of good presentations, content and conversation. I particularly appreciated the "TED Talk" style presentation format with shorter, punchier presentations. Congrats to Scott Brinker and his team for doing such a great job.
Here are some of the themes that stood out to me:
Man, this is fun. Our industry continues to disrupt, get disrupted, and evolve. Few industries are experiencing more noise, growth, technology change, or rapid evolution in strategy and practice than modern marketing is today. Our industry is also FILLED with deeply smart people who are solving very complicated challenges from a variety of angles. It's such a great time to be in marketing. Is it overwhelming at times? Yes. But for people who like to solve and do big, consequential things, it's truly a blast. I feel lucky.
Real transformation isn't always sexy. Transforming and modernizing the way an organization engages its target audience to establish and deepen relationships, build brand affinity, and grow revenue is hard work. It takes time. And it takes WAY MORE than just technology to make it happen. I appreciated how honest many of the presenters who shared case studies and stories at MarTech were about what it takes to truly transform. How things often take longer than you want. How some unsexy foundation often has to get installed before the brilliant, beautiful, impressive things happen. How internal stakeholders often have very different points of view. How hard alignment is to achieve and maintain. And how worthwhile all of that work is, when you stay committed.
Integrating data and analytics was on EVERYONE'S lips. Every platform vendor I spoke to began their pitch with some version of this: "Implementing our solution is easy. And our analytics will allow you to ____(insert moderately-interesting, but incomplete insight). We have lots of connectors that you'll use to ingest your data." I couldn't shake the feeling that the myopic focus of each of these point solutions was an inefficient way to solve the MANY challenges faced by today's modern marketers. Why isn't there a big data mart in the sky that all of these point solutions can leverage and integrate with? Oh look. That might be part of the reason why Domo has a $2 billion valuation.
Big Data is getting bigger. Predictive analytics is an example of how companies are figuring out how to begin leveraging huge data sets. Another example: Internet of Things (IoT) is about to utterly expand the available amount of data.
Big data harnessed to machine learning–early days. Big data combined with Machine Intelligence is only just starting to transform marketing and customer experience. And it's happening in a variety of areas:

Predictive analytics
Cognitive marketing
Personalization across multiple touch points
Smarter marketing recommendations
Much better understanding of customer context
See David Raab's presentation about Machine Intelligence and how/where it will impact marketing here
Speaking of presentations, here are five more presentations that stood out to me:
Did you attend Martech this year? What themes are you seeing in the MarTech space? Share your thoughts in the comments below.
Also, if you are looking for an experienced partner to help you architect, evaluate, select, implement, integrate and/or optimize your MarTech stack, reach out. We'd love to get to know you and help any way we can.