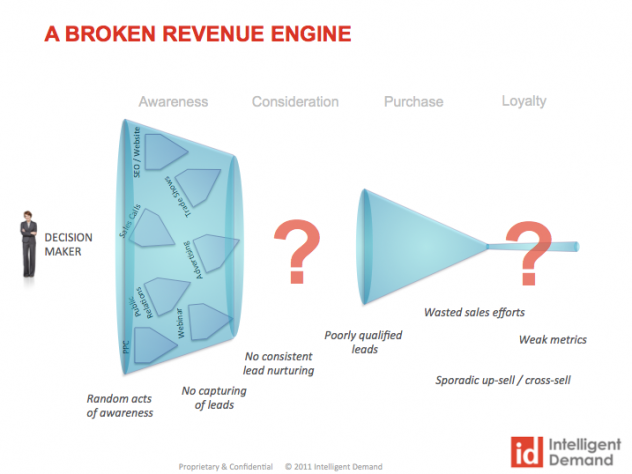 The image pictured above is a high-level diagram of a typical revenue engine. It comes from a marketing approach that places heavy influence on awareness tactics and channels – often at odds with one another and not designed to capture and propel a lead deeper into the funnel.
The tale-tell signs of a broken revenue engine:
a grab bag of awareness tactics
weak/no lead capturing
batch-and-blast (unsegmented), product-centric messaging
no lead nurturing
weak lead qualification
lots of leaks in the opportunity funnel
which all leads to poor follow-up by sales
only the most basic, tactical metrics (open rates, web traffic, #'s of followers, etc)
In this example, the sales department is left to do it's own prospecting, qualifying, nurturing, consulting, educating and closing. Because of this, they often view marketing as the "make it pretty department".
You could also name this graphic "What mis-alignment between Marketing and Sales looks like."
Intelligent Demand bridges the gap that leads fall into once they hit the space between awareness and purchase (the consideration phase). We help our clients put purpose behind each of their awareness tactics so they can then begin to nurture their prospects (and customers) with consistent, compelling messaging at each step of the buying cycle and deep into loyalty.
You can learn more about what a well-designed revenue engine looks like here.