Denver Startup Week happened last week. It was my first time attending it, honestly, what a great event! It was pretty cool to feel the passionate, hopeful, nervous, sometimes-awkward energy that emerges when you mash up a mix of founders, developers, marketers, designers, investors, press people, job hunters. It sort of felt like a sprawling high school party for startup geeks and the people who want to date them.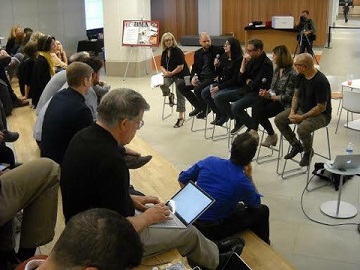 The panel was named "Navigating the Marketing Minefield to Find the Right Agency!", sponsored by the Colorado Business Marketing Association. Lots of folks attended the session and then hung around afterward for drinks, questions, and networking. I was on the panel with some great marketers:
John Common, CEO, Intelligent Demand

Pablo Alejo, Sr. VP Innovation, Burns Marketing

Kelly Hanratty, Executive Director, Leopard Communication

Kit Hughes, CEO, Look Listen

Kelly Snyder, Managing Director, 90 Octane

Tricia Smith, Marketing Consultant and Session Facilitator
Our discussion was informal, honest, practical, and down to earth — not just among the speakers, but with the audience as well. The topics felt authentic and relevant, and I love that.
My Startup Experience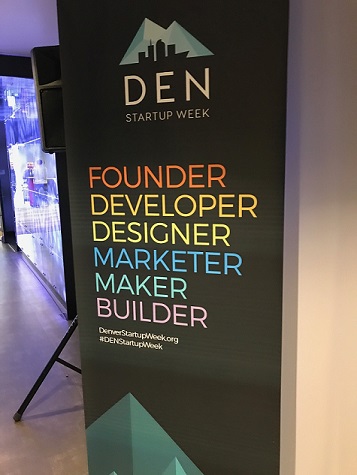 Whenever I get asked to speak or stand on a stage, I ask myself "What right do I have to dispense advice to these smart people, anyway?" So in case you're wondering that very thing, here you go:
I started my career in Finance and M&A

Worked for years, client side, in marketing, sales and business development roles in a series of high growth, early stage companies
Worked for years as a startup consultant with clients in technology, services, media, retail, software. This was fascinating and very hard work. And I learned A LOT about the pressures, passions, strengths, delusions, and mega-responsibilities of the founder/CEO role
I founded Intelligent Demand in 2010, launched it on January 1, 2011, and have grown and managed it through today. I keep trying to earn my job as CEO (with mixed but sometimes positive results)
Over the years, and even to today, Intelligent Demand occasionally works with early stage companies — usually friends/referrals who need the help and who are a good fit for what we do
15 pieces of marketing advice for startups (and maybe for everyone else, too)
This list isn't intended to be perfect or exhaustive by any means. But it does come directly from my experience. If I were talking with a very good friend who was about to spend money on marketing for a startup, this is what I would tell her.
As I wrote the bits of advice, it dawned on me that 80%+ of the advice isn't just for startups*. It's applicable for people at every stage of the business lifecycle. I think part of the problem with marketing and marketers in later stage situations is that they're NOT succeeding with the fundamentals that I lay out below. I'm interested if you agree.
1. Before you spend a dime in marketing, have a clear, compelling guiding vision and set of values — these likely won't (and shouldn't) change too much over time. They form the DNA of your company, and will focus and guide your value proposition, culture, brand, definition of your ideal client profile, go -to-market (GTM) strategy, demand gen program, sales process, etc.
2. Become more of an expert about your customer's problems, opportunities, pains and hopes than they are. Take them out for pizza and listen to them talk. Go to their office with a six pack on Friday at 4pm and ask them to tell you every little thing. Roll around in the dirt of their use case — get it all over you. Are you hearing me? You think I'm kidding. I am not kidding. Truly get to know your target audience, and then keep doing it better. Never stop.
3. Be humble. Be prepared to be wrong, to fail, to pivot, and to be flexible about HOW you bring your vision into reality.
4. Repeat after me: "We must target and focus like a laser." You need to admit — early and often — that you and your team can likely do very, very few things well in a given unit of time. (By the way, I still screw this up, constantly. And I hate when I realize too late that I did.) TWEET THIS
5. In Startupland, your #1 asset is time and team talent, your #2 asset is budget/money. Let me put this another way: if you think your most precious resource is money, you're wrong. It's time and focus, in my opinion. TWEET THIS
6. Invest in generating real insights about your market, develop a unique point of view around those insights, and then have the courage to share that unique point of view in ways that stand out and challenge their business as usual. Otherwise your brand and brand voice will be BORING and you'll wonder why all of your hard work isn't registering on your market's radar.
7. Know what you mean when you say the word "marketing" at your company. And remember that if you are confused, then you're going to confuse those around you (no bueno). TWEET THIS
Here's a partial list of what "marketing" can mean at your company:
Product Marketing, including your go-to-market strategy

: value proposition, segmentation, target audience definition, ideal client profiling, target account list development, buyer persona development/validation, customer journey mapping, validation of customer needs, mapping needs to products, solutions and benefits

Brand Development and Brand Evolution: This ensure that your target audience understands what you do and what makes your offerings uniquely valuable to them. Your brand should be well-defined and expressed in a consistent and compelling way across all touch points and team members
Integrated Revenue Program Strategy: the guiding plans that connect the dots from your activity and spend to pipeline and revenue impact (across the entire customer journey)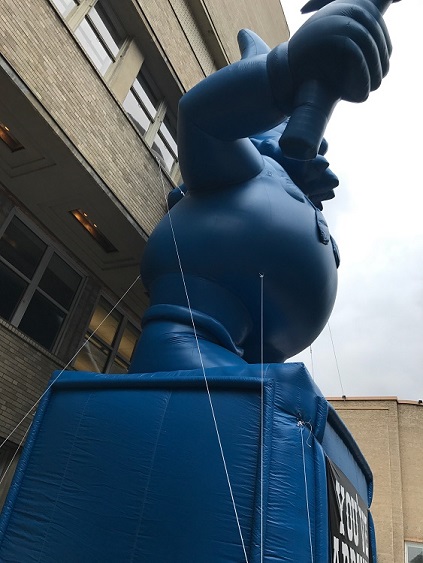 End-to-end Demand Creation:

For acquiring new customers

For retaining existing customers

Customer Experience

that integrates and improves perception and performance across every customer touch point

Marketing Foundation, Infrastructure and Marketing Operations

: marketing automation, advertising technology, website/CMS, reporting and analytics, social media, data hygiene, predictive analytics

Marketing tactics

: website, social media, events, SEO, PPC, display, retargeting, CPL campaigns, industry direct campaigns, lead generation campaigns, nurture campaigns, content and content marketing, marketing technology, ad technology, sales technology, data, account based marketing/everything, reporting and analytics, sales development, tele-prospecting, public relations, investor relations, analyst relations, etc — this list goes on and on and on!
8. Know where you are in the lifecycle of your product, and get super clear and focused on what the most important things that must be achieved at each phase:
Idea
Beta Product
Product Launch
Achieving Real Product/Market Fit
Developing Market Traction and Momentum
Pivots / Reactions to Good News / Bad News
Scaling for Volume
9. Create a master plan that synchronizes the achievement of your company's most important gates/milestones with the activities and budgets of these revenue stakeholders:
Executive / Founder Team
Product Team
Sales Team
Marketing Team
Customer Success Team
NOTE: #7, #8, and #9, when combined, will keep you from spending time and money in the wrong area, at the wrong time, and in the wrong amount.
10. Start small, test and learn, fund the winners. (Read The Lean Startup if you haven't yet.) TWEET THIS
11. If an idea, strategy, or tactic doesn't have clear goals and KPIs, don't fund it. TWEET THIS
12. Manage expectations — including your own expectations — at all times. Speak truth, always. Especially when it hurts.
13. Develop Plan Bs and Plan Cs. Things are going to break and not go the way you planned. Don't be surprised or caught flat-footed.
14. Marketing Unicorns mostly don't exist. You will have to make compromises often when it comes to staffing and resourcing your team. Make those choices smartly. (This is also a great reason to work with an agency, at the right time — the right full service agency especially should/will bring a variety of talents, skills, experiences and horsepower as extension of your team — filling gaps appropriately.)
15. Beware of "strategy in a box" thinking. Best practices and frameworks are only there to serve as a starting point. Don't follow them blindly. That's a path to mediocrity. TWEET THIS
Phew!
That was a long one. Hope you found it semi-relevant, semi-helpful and semi-enjoyable. If not, reach out to me (you pick the channel) and give me an earful. I actually enjoy that kinda stuff.
See you out there,
John
*
The remaining 20% of my advice that is truly applicable only for startups felt very situationally-dependent. So I decided not to share it. Feel free to reach out if I can be of assistance with YOUR startup. Happy to help any way I can.