Paul Brown. Bill Walsh. Mike Holmgren.
These are the names typically associated with mentoring and developing some of the best coaching minds in football.
While Paul Brown's "coaching tree" is legendary, Bill Walsh's is probably better known to current football fans. As part of the Bill Walsh coaching tree, Mike Holmgren has also mentored and developed some of the most famous and successful names within the NFL's coaching ranks. Under the tutelage of Holmgren, contemporary head coaches like Steve Mariucci, Jon Gruden and Andy Reid learned the trade and became, each of them, coaching legends. In fact, Reid's Kansas City Chiefs are 6-3 as of this writing and in first place in the AFC West.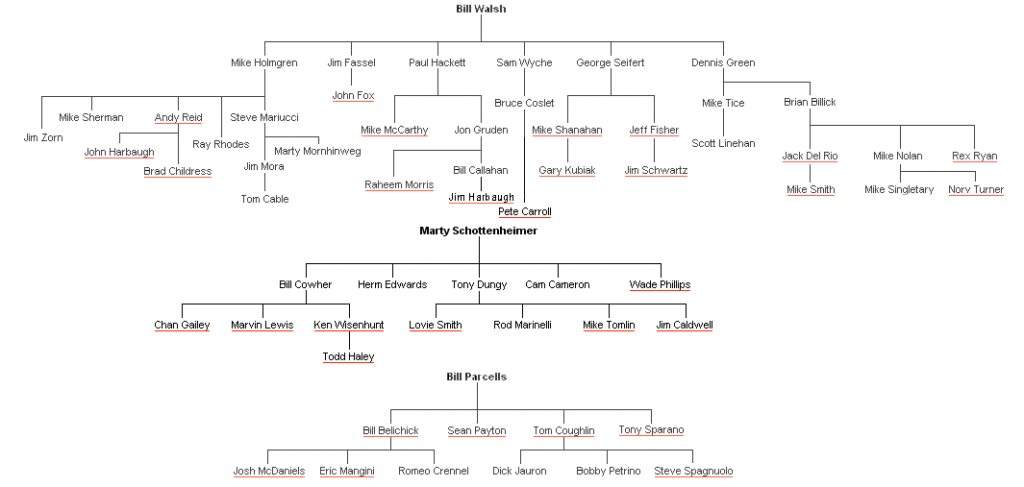 When discussing the departure of one of our associates with ID's CEO, John Common, the idea for this blog was born. John shared how proud he is of her growth over her three-year tenure and that he was happy to have played a small role in it. And, as we were talking, I began to think about the purpose of ID:
"Individual growth that helps others grow and transforms organizations."
That's it.
We're about the growth of ourselves, our people, our clients, and their organizations.
It's a strikingly pithy, refreshing, and unique purpose among the sea of sameness you hear from most agencies, who love to drone-on about some variation of a poor ripoff of something they once heard Simon Sinek say, or thought they did, that became bastardized into some sort of purpose statement on a cocktail napkin three martinis deep*. (*I'm Mike Swainey, and I approve this insanely long, meandering sentence.)
But, I digress.
As John and I were talking, I got to thinking how the development of people within our sphere of influence is like our own personal "coaching tree." And being the football nerds that John and I are, the idea really stuck with me.
Regardless of years-of-experience or employees-managed or clients-served, we have all contributed to the growth of those we've mentored or worked with over the course of a career. And, if you think about that, every one of us is responsible for enabling the personal growth of others.
Enabling the growth of others. There it is again.
Inspired by the thought, I went LinkedIn surfing to check on some of the people I've hired, fired, coached, and mentored. Throughout this crazy two-decade career in marketing and advertising, I've helped, or hindered, the growth of dozens of people, some of whom have become thought leaders in our space. Some now sport the titles of VP, director, and president. And others have become client-side all-stars.
The exercise really struck a chord with me and offered a sense of accomplishment. Small things that I did to help a person in need. A promotion I was proud and pleased to deliver. Even the person that moved on for greener pastures. Yeah, I had a hand in all of it. At the least I'd like to think I played some small part in the success of many people who are thriving as professionals and as great people.
As I continued to reflect, I considered the enormity of this, along with the departure of one of our associates. And a moment of clarity followed.
If your goal isn't to make the people around you just a little better every single day, you're missing the boat. As managers, peers, mentors, coaches, friends and counterparts, we wear many hats, all certainly in the service of making opportunity for others to succeed. In fact, that's the job. Our job as managers and leaders of our respective organizations is to make the people who have entrusted their growth and livelihood to us better at what they do.
So, to close, think about your "coaching tree." Who is in it? What good are you going to do everyday to enable the personal growth of others? If the answer is less than everything you can, you're doing it wrong.