Congratulations—you've carefully crafted an email that's attracted engagement from your target audience…Now what?
Oftentimes, in the business of writing for marketing, life can seem to revolve around a single email.
The Fulfillment Email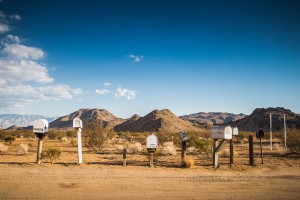 Sure, in the age of modern marketing and marketing automation, the email itself is a useful tool for opting-in, nurturing, and/or converting. But if we step back for a moment, we're reminded that:
A successful email is marked by some kind of engagement.
When you've done your job right, you've still only started the conversation.
The best practice for taking initial email engagement one step further is something we like to call the "fulfillment email." A fulfillment email is just one type of triggered email, meaning it's sent in response to an action that has been taken. In addition to positively reinforcing that action, a fulfillment email provides a somewhat rare opportunity to continue a conversation with a captive audience.
The door has been opened by an action, let's say by a click through to content. The fulfillment email is the perfect avenue to extend a "thank you" and encourage the download of related content or continued interaction through other channels.
But is a "thank you" really enough to keep the conversation going? Trick question. Oracle has used Eloqua benchmark data to conclude that "Emails with 'Thank You' in the subject line have a significantly higher open rate." In that study, the open rate was 14.29% higher. The click-through rate was also higher by 1.93%.
And once your "thank you" has worked its magic, the stage is all yours. You can think about fulfillment emails as a direct, owned channel for publishing straight to the inbox of the most engaged members of your audience. They're listening. Make sure you have something to say.
In the words of a Hubspot blog, "… it's time to think about what you want your prospect to do next. You have their attention — take advantage of it!"
For a peek at how we've helped some of our clients take advantage of the opportunity presented by fulfillment emails, check out a couple examples below:
Example 1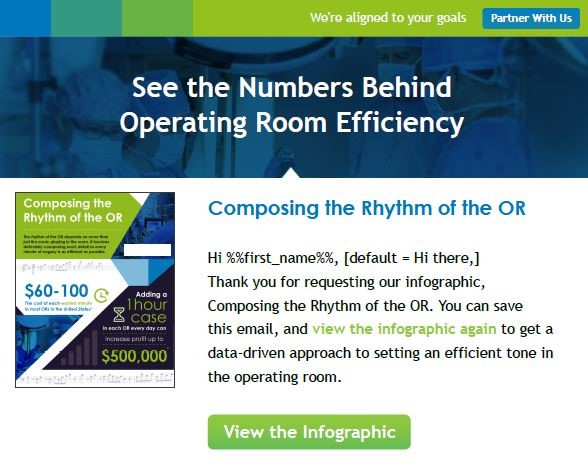 SUBJECT LINE: %%first_name%%, here's the infographic you requested
PREHEADER TEXT: Composing the Rhythm of the OR

Example 2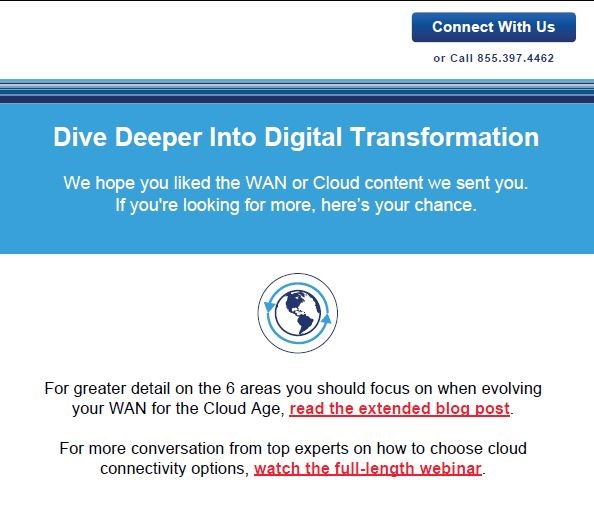 SUBJECT LINE: Thanks for your interest. Looking for more?
PREHEADER TEXT: Get extended content now

Now it's your turn. Don't shy away from introducing some simple fulfillment emails and measuring for effectiveness within your campaigns. You might just see continued engagement with the same content among those who had technical difficulties, failed to read it from the first email, or want to reference it later. But you can also help your audience onto the next logical step in their buyer or customer journeys.
Long story short on why fulfillment emails are a best practice: At minimum, you have a platform for making your content readily accessible. At maximum, you can identify active demand, benefiting both your audience and your revenue stream.
That's where we come in. If you want to keep nerding out on best practices with us, or chat about how to up your fulfillment email game, reach out to info@intelligentdemand.com, or call (877) 654-2234.