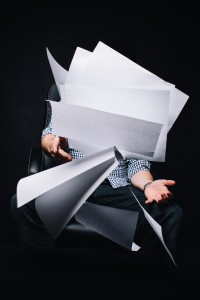 True or False? 50 characters, including spaces and punctuation, is all you the room you get to convince someone to open your email.
The answer is "kind of true."

Allow me to explain…
It is true that 50 characters, including spaces and punctuation, is the average length of an email message's subject line before smart phones and email clients will start to truncate it. However, depending on your device's screen size, that character count could be even smaller.
For example, in Gmail's Inbox app, the above email's subject line, Colorado Ballet – 20% Off ALICE (in w…, is getting cut off at 37 characters.

Whereas Apple Mail on an iPhone 6s displays 45 characters of the subject line before it's truncated:

And in the desktop version of Gmail, you can see the entire 59-characters of subject line:

Keep in mind that there are a slew of other email client/device viewing combinations, but I just wanted to give a quick representation of the variations that can occur.
Now go back to my original true/false question—in which I asked if you only have 50 characters, including spaces and punctuation, to persuade someone to open your email. I said the answer was "kind of true", and it's not only because every email client/device combo renders subject line character counts differently.
Breakdown of Email Anatomy
In reality, today's modern marketers actually have three lines of text to try to convince email recipients to open their emails.

There are many differing arguments over which line is the most important part of the email, but I'm here to say you can't focus on one without considering the other two. They all work together to influence open rates. Because the truth is…When your email message is competing head-to-head against 85 other daily delivered messages, you must have captivating copy on all three lines if you want to have any chance of cutting through the inbox clutter.1
Here are some examples of companies getting it right:



All of these stand out in my inbox for a number of reasons…
It's easy to see exactly who is sending the email;
The subject lines are short, enticing and to the point; and
The preheader text in all of them expand upon what's promised in the subject line, tempting me to open the message to see the rest of the story
Compared to the following examples of companies who are only getting part of it right…
Pickwick & Frolic does a great job of teasing Thanksgiving entertainment and brunch, but the default preheader text that follows doesn't give me any more details of what I get if I open the message, only a slight indication that the email may not display properly when I open it:

On the other hand, the From Name that Domino's uses here doesn't give me a clue who is sending the email. The subject line gives me some insight, but the preheader text doesn't tell me the next logical thing I'd like to know, which is when will my order be ready:


Finally, I'm happy that the Rockies thanked me for my baseball ticket purchase here, but the preheader text is just a repeat of the subject line. They're missing out on an opportunity to give me additional game day-related info:

I hope you get the point here.
If you're truly looking to boost your emails open rates, you can't just focus on the subject line anymore. In order to be effective, you need to treat the From Name, Subject Line and Preheader Text as three separate, yet very cohesive, opportunities to get your emails opened.
UPDATE: I learned about a simple, new tool that gives marketers a first-hand glimpse into the mobile-first inbox—TestSubject. You can copy and paste the text you intend to use for the From Name, Subject Line, and Preheader Text into the TestSubject tool, and then see how it will appear on some smart phones and email client combinations.